Track type
Character Theme
©2008 Varèse Sarabande and Michael Giacchino

"Dharmacide" is an orchestral piece on the Season 3 soundtrack. It contains a sinister seven-note melody for muted trombones or strings, consisting of two similar descending figures, each ending with a half-step glissando. The theme originally characterized the Others in general but later turned into Ben Linus's character theme.
Main appearance
In the van with his father, Ben straps on a mask and opens a canister of poison gas. Then he goes to the barracks, where the gas has killed everyone in the DHARMA Initiative. He shuts Horace's eyes. When Richard comes, Ben removes his gas mask. Richard offers to retrieve Roger's body, but Ben says to leave it behind.
Full list of appearances
"Dharmacide" and its variations play during the following scenes.

Ben banishes himself for the Island's sake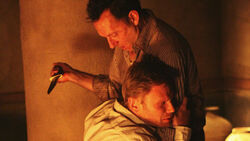 Jacob falls against Ben after being stabbed and touches Ben's arm.
Sheet music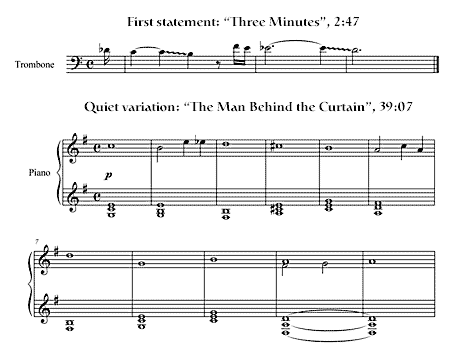 Variations
"Alex in Chains", "Beach Blanket Bonding", "Bobbing for Freighters", "Bon Voyage, Traitor", "Claire-a Culpa", "Closure", "Early Mourning Mystery", "Fool Me Twice", "Karma Has No Price", "Hide and Snitch", "The Hunt", "Hostile Negotiations", "Jacob's Stabber", "Locke of the Island", "The Looking Glass Ceiling", "Making Up for Lost Time", "Smokey and the Bandits", "Teaser Time", "Torture Me Not", "Under the Knife", and "Your Kharma Hit My Dharma" use the theme from "Dharmacide".
Title significance
"Dharmacide" is a portmanteau of "DHARMA" and the suffix "-cide" dealing with killing and murder. It refers to the Purge.