Desmond's letters refers to a box of letters that Desmond wrote to Penelope Widmore while he was incarcerated at Southway Garrison.
After being released from prison and dishonorably discharged from the Royal Regiment of Scotland, it was revealed that Penelope's father, Charles Widmore had intercepted all of the letters. He then returned them to Desmond in a box as he attempted to bribe Desmond into ceasing all further contact with his daughter. ("Live Together, Die Alone")
Later, when Penelope discovered Desmond's location and confronted him, she asked why he didn't write to her while in prison. Desmond did not reveal that he had, but that her father had taken all of the letters.

Addresses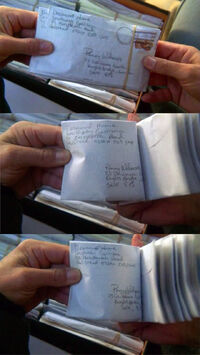 Desmond thumbs through a stack of letters from the box.
Penelope's address, possibly inspired by the real Knightsbridge street Ennismore Gardens, as listed on these letters was:

Desmond's return address (again, the street name was unclear) was:
See also
Our Mutual Friend A book that Desmond carried with him that contained a storyline roughly parallel with his relationship with Penelope and her father Charles.