Line 39:
Line 39:
 

*Christina Aguilera feat. Lil' Kim - "Can't Hold Us Down"

 

*Christina Aguilera feat. Lil' Kim - "Can't Hold Us Down"

 

*Macy Gray - "She Ain't Right For You"

 

*Macy Gray - "She Ain't Right For You"

−

*Christina Aguilera]] - "The Voice Within"

+

*Christina Aguilera - "The Voice Within"

 

*Blink 182 - "Feeling This"

 

*Blink 182 - "Feeling This"

 

*No Doubt - "It's My Life"

 

*No Doubt - "It's My Life"

Line 52:
Line 52:
 

*Designed and directed Elton John's Las Vegas show "The Red Piano"

 

*Designed and directed Elton John's Las Vegas show "The Red Piano"

 

2005

 

2005

−

*[[Robbie Williams]] - "Advertising Space"

+

*Robbie Williams - "Advertising Space"

 

2006

 

2006

 

*Hilary Duff - "Supergirl"

 

*Hilary Duff - "Supergirl"

Line 91:
Line 91:
 

*[http://en.wikipedia.org/wiki/David_LaChapelle Wikipedia]

 

*[http://en.wikipedia.org/wiki/David_LaChapelle Wikipedia]

 

*[http://www.davidlachapelle.com/ DavidLaChapelle.com] Official Website

 

*[http://www.davidlachapelle.com/ DavidLaChapelle.com] Official Website

−

*{{imdb name|id=0479999|name= David LaChapelle}}

+

*imdbname David LaChapelle

 
+

*[http://www.imdb.com/company/co0151672/ David LaChapelle Studios at IMDB]
---
Revision as of 14:27, 6 May 2006
David LaChapelle is a photographer and director who has worked in the fields of fashion, advertising, and fine art photography. He is famous for his surreal and often humorous style.
LaChapelle directed (and presumaby wrote) The United Kingdom promo of the first season of LOST, which had the characters cleverly paired as dancing partners. For example, Boone and Claire were paired (life and death) with Locke and Walt conducting.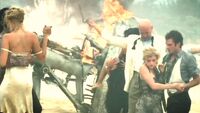 Biography
LaChapelle was born in Connecticut in 1969 according to his website.
He attended the North Carolina School of the Arts and the School of the Arts in New York City. His first professional job as a photographer was for Interview magazine, an opportunity offered to him by Andy Warhol. He has two published books of his photographs, LaChapelle Land and Hotel LaChapelle, both of which contain vivid and bizarre portraits of celebrities.
More recently, his film Rize, a documentary on the krumping style of dance had its festival premiere at Sundance Film Festival|Sundance in 2005 and was released theatrically in the summer of that year. He also recently directed an advertisement for H&M's new denim selection; this commercial was based on the story of Romeo and Juliet.
His name was included in the Paris Hilton phone directory, which was leaked to the internet in 2004. Most people mistook the name for Dave Chapelle, the comedian and flooded his number with messages.
Music videos
His directing work includes music videos for artists including:
1994
Penny Ford - "I'll Be There"
1997
The Dandy Warhols - "Not If You Were The Last Junkie On Earth"
Space Monkeys - Sugar Cane
2000
Kelis - "Good Stuff"
Moby - "Natural Blues"
Enrique Iglesias - "Sad Eyes"
2001
Elton John - "This Train Don't Stop There Anymore"
Mariah Carey feat. Da Brat & Ludacris - "Loverboy"
2002
Elton John - "Original Sin"
The Vines - "Outathaway"
Christina Aguilera feat. Redman - "Dirrty"
Avril Lavigne - "I'm With You"
2003
Jennifer Lopez - "I'm Glad"
Whitney Houston - "Try It On My Own"
Christina Aguilera feat. Lil' Kim - "Can't Hold Us Down"
Macy Gray - "She Ain't Right For You"
Christina Aguilera - "The Voice Within"
Blink 182 - "Feeling This"
No Doubt - "It's My Life"
2004
Britney Spears]] - "Everytime"
Joss Stone - "Super Duper Love"
Norah Jones - "Those Sweet Words"
Elton John - "Answer In The Sky"
Elton John - "All That I'm Allowed"
Usher - "Burn"
Gwen Stefan feat. Eve - "Rich Girl"
Designed and directed Elton John's Las Vegas show "The Red Piano"
2005
Robbie Williams - "Advertising Space"
2006
Hilary Duff - "Supergirl"
Elton John - "Someone Saved My Life Tonight"
Books
LaChapelle Land - Published in 1996
Hotel LaChapelle - Published in 1999
Both of these feature LaChapelle's trademark zany imagery and idiosyncratic colorful style. Features pictures of Madonna, Elton John, Billy Corgan and Marilyn Manson among various other celebrities and models.
Artists and Prostitutes - Published in 2006
This book of photography spans LaChapelle's entire career to date. Limited to 2,500 copies, each is numbered and signed by David LaChapelle.
Awards
1995
"Best New Photographer of the Year" by both French Photo and American Photo magazines
1996
"Photographer of the Year Award" at the VH-1 Fashion Awards
1997
"Art Directors Club Award" for Best Book Design for LaChapelle Land
1998
Best "Cutting Edge Essay" and "Style Photography" at Life magazine's Alfred Eisenstadt Awards for Magazine Photography (the Eisies)
1999
Honored in the "Cover of the Year" category at the Eisies
2000
Won "Best Video" for Moby's "Natural Blues" at the MTV Europe Music Awards
2003
12th Annual MVPA (Music Video Production Association) Awards - Adult Contemporary Video of the year - Elton John "This Train Don't Stop There Anymore"
2004
13th Annual MVPA Awards - Winnner "Director of the Year" - "Best Rock Video of the Year" for No Doubt "It's My Life"
Special Juried Prize Mountainfilm in Telluride
Special Juried Recognition in Sundance Film Festival
Winner of "Best documentary" in Aspen Film Festival
External links
Community content is available under
CC BY-NC-ND
unless otherwise noted.