Real World article
(written from a Production point of view)
Daniel Dae Kim (Korean: 김대현) is an actor who played the role of Jin-Soo Kwon.
Background
Daniel Dae Kim grew up in Easton, Pennsylvania, where he attended Freedom High School in Bethlehem, PA (the same high school as Dwayne Johnson - "The Rock"). He earned a Bachelor of Arts degree from Haverford College/Bryn Mawr College in Theatre and Political Science, and later, an M.F.A. from the Graduate Acting program at New York University, where he met his wife, Mia. Their son was born in 1996.
Acting was initially a tough calling--while getting only small parts in plays and writing and performing in an improv comedy group, he seriously considered a career in investment banking.Angel, 24, Crusade, and Star Trek: Enterprise. He also played Dr. Octavius' lab assistant in Spider-Man 2, had a short role as a military officer in "The Hulk", had a role in the movie "The Andromeda Strain", and was a regular on the short-lived Babylon 5 spinoff Crusade.
Eventually, he worked his way up to recurring roles in a number of TV shows, including
Due to his Americanized upbringing in the States, "DDK" (as he is known to fans) actually was not fluent in Korean when Lost started filming, and co-star Yunjin Kim helped coach him on improving his language and correcting his accent for the show. Today, he is an activist for Asian-American causes, due to experiences with racism he said he underwent while growing up, and later within the acting industry.
In February 2010, shortly after Lost's conclusion, it was announced that Kim would join the CBS reboot Hawaii Five-0 playing Chin Ho Kelly, the role originally made famous by actor Kam Fong. He was the first actor to be officially cast on the show. That series premiered on September 20, 2010 to strong ratings and solid critical acclaim. On June 30, 2017, Kim announced that he is leaving H50 along with Grace Park due to a salary dispute and they decided not to renew their contact and will not appear in season 8.
3AD is currently producing the television series The Good Doctor, based on the 2013 South Korean series of the same name.
Media appearances
Talk show
Kim has appeared as a talk show guest in the following:
October 24, 2006 - The Megan Mullally Show (S1 E28)
October 29, 2005 - Jimmy Kimmel Live (S3 E112)
January 25, 2006 - The View (S9 E91)
April 10, 2006 - The Tony Danza Show (S2 E131)
June 2, 2006 - The Tony Danza Show "Prime Time Hunks" (S2 E170)
Source: tv.com
Magazine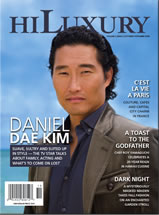 Kim has been featured as the main topic of the following magazine articles:
HILuxury - October-November 2008 (cover) - "Lost In Luxury" [1]
TV Guide - May 19, 2005 (cover) - "Inside the Finale: Lost, Hot new secrets from the show's creators" [2]
Miscellaneous
August 8, 2004; September 14, 2005; September 30, 2006: Sunset on the Beach (Season 1, 2, 3 premieres)
TV.com interview at Sunset on the Beach [3]
Trivia
Kim has said that playing Jin is a relief to him because he is finally playing someone of his own heritage (Korean), having been cast as characters of almost every other Asian heritage but his own. [1]
He, Sam Anderson, Henry Ian Cusick, John Terry, Michael Cudlitz and Alan Dale all appeared in 24.
In the blooper reel on the Season 1 DVD, Kim can be seen flubbing a line in Korean, and subsequently cursing in English.
His acting heroes are Paul Scofield, Gene Hackman, Robert De Niro, Sidney Poitier, Gene Kelly, Denzel Washington, Robert Duvall and, his favorite, Jonathan Pryce.
He was the only Asian man to be included on People magazine's list of the sexiest men alive in 2005. Matthew McConaughey topped the list.
He and Sam Anderson both played lawyers for the evil law firm Wolfram & Hart in the television series Angel. In addition, Josh Holloway had a minor role in the show's pilot episode.
In addition to the show 24, he has appeared on 24 The Game (along with Alan Dale).
He did a campaign ad message against former Senator George Allen, following racist comments he made against an Asian-American.
He voiced the character of Johnny Gat in the video game Saint's Row.
His (transliterated American) name in Korean is: 대니얼 대 킴
His original Korean name is: Dae-Hyun Kim (Hangul: 김대현)
His publicist is Cindy Guagenti. [6]
He was the victim of a practical joke on Australian national television. He was led to believe that "have all your poo in one sock" is a popular Australian saying, and asked the hosts of the The Morning Show what it meant. The hosts then proceeded to tell Kim that he was probably the victim of a practical joke.
He attended Barack Obama's nomination acceptance speech at Mile High Stadium in Denver, Colorado on August 28, 2008.
In February 2009, Kim opened a hamburger restaurant called The Counter in Hawaii as part owner.[7][8][9][10][11]
Both Kim and Jorge Garcia appear in the CBS police series Hawaii Five-0.
He worked on The Good Doctor with Sheila Kelley and Reiko Aylesworth.
See also
References
External links