Theories may be removed if ... 
Stated as questions or possibilities (avoid question marks, "Maybe", "I think", etc).
More appropriate for another article.
Illogical or previously disproven.
Proven by canon source, and moved to main article.
Speculative and lacking any evidence to support arguments.
Responding to another theory (use

discussion page

instead).
This does not include responses that can stand alone as its own theory.
Usage of an indented bullet does not imply the statement is a response.
See the Lostpedia theory policy for more details.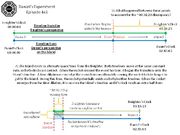 The different perception of time isn't necessarily far forward or far backward, it may be parallel timelines that move at the same rate, only the island's may be slightly behind the outside world's, and the island simply has to "catch up" to the rest of the world before things can appear in the "island's world". This would cause some kind of limbo between the time barrier of the island and the rest of the world. Gas would still be used and motion would still be presumed, but these things would not ACTUALLY be happening. This further explains why Oceanic 815 was not found, since the plane was only about 1 1/2 hours off course or 750 miles. The reverse, going from the island to the outside world, would cause someone to have to either jump backward (which would explain Desmond's falling "too far back") or possibly jump "sideways".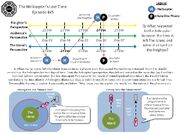 See the second diagram to the left for a possible explanation of the the phenomenon mentioned above.

The Hatch implosion caused the distortion of time between the island and the world. When Danielle Rousseau is pregnant with Alexandra, she claims the year to be 1988. In 2004, we see a 16 year old Alexandra. No continuous time shifting or difference between the Island and the outside world could have occurred. 16 years on the Island (experienced by Alexandra) and 16 years off the Island (2004 minus 1988).