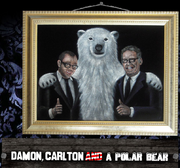 Damon, Carlton and a Polar Bear (unofficial name) is a Lost alternate reality game from ABC studios and the creators of Lost that provides a set-up to Lost's upcoming sixth and final season.
The ARG began on July 25, 2009, commencing during the 2009 Lost panel at Comic-Con. Unlike the other official ARG's, this one breaks the fourth wall from its start, acknowledging the TV series, characters and Damon Lindelof and Carlton Cuse as the executive producers and writers.
The ARG initially followed Paul Scheer's struggle to publicize his Lost-inspired artworks, as well as convince Damon and Carlton to acknowledge his fine art. He faced further heavy resistance from an art dealership named Ronie Midfew Arts, who were citing copyright claims on his pieces. Later, in an apparent reconciliation, Paul agreed not to publicize his art but helped Lindelof, Cuse and Midfew Arts organize a campaign for Lost fans to find 17 posters that they can then purchase. So far, clues on the main website have led fans to real-world locations, where they get URLs to websites containing the actual posters.