DJ Dan's first live broadcast
On August 11, 2006, 11 PM LST, DJ Dan hosted a live call-in podcast lasting almost two hours. The podcast was aired on http://www.radioharvest.com, and fans were urged to email conspiraspiesunite@hotmail.com or call in at 800-942-4704 with their questions. Callers included many dedicated Lost Experience players, as well as Speaker, Lost Ninja, and Malick from Rachel Blake's video.
You can listen to the live broadcast here.
Transcript
For ease of loading and editing, the transcript of this 110 minute broadcast has been broken into:

To the best of our collective knowledge, this is the first transcript on the web.
Revelations/highlights
DJ Dan is known to make statements that are highly exaggerated, paranoid, and fabricated. Thus anything stated in this lengthy podcast cannot be considered necessarily true. However, he did point to many potentially relevant points for the Lost universe.
Dan gives leads for two glyphs:

One to appear Monday August 14 in New York City ("la manzana grande") in a "prominent touristy location that rhymes with 'fresh air'" (likely Times Square)
One faxed to him which was left on his studio door and found on August 12 at Radio Harvest

Dan claims that both Lost and Bad Twin are non-fiction, portraying actual events and actions of the Hanso Foundation and related characters.
Dan believes that Enzo Valenzetti could still be alive (his favorite theory is that he was "caught under the wheels of his combine at his family farm in the Swiss Alps")
Dan mentions that the Vik Institute has "verified a figure", but that he doesn't know what it is yet, presumably related to the Valenzetti Equation.
Dan denies being Peter Thompson, Speaker, Javier Grillo-Marxuach, or working for The Hanso Foundation. He makes a point of repetitively mocking "this guy" Javier.
Dan referred to the Karma Imperative as the band Keith Strutter was in before founding Geronimo Jackson.

This name (first mentioned in 7/10 podcast) is a malapropism of the DHARMA Initiative.

Dan doesn't believe in nanotechnology, and specifically tells a caller that you will not see it on TV come September.
Speaker calls in, Dan jokes that he'd better not be the guy who runs the Javi Minions fan site; he later calls him Andy (which also happens to be the name of the guy who runs Javi Minions)
His announcer's name is Johnny, and one of his roadies is named Louis.
DJ Dan was at Comic Con
Dan seems fairly obsessed by donuts, and makes repetitive mention of them, but absolutely hates parsley
A mysterious caller named Malick (the "fixer" from Rachel's videos) called in with a message for Rachel Blake and said the following numbers:
240 249 68 61 37 118 75 233 231 150 36 184 157 51 144 180 253 50 173 30 222 192 13 82 1
Each of these numbers is a page from the book Bad Twin. Take the first letter of the first word from each page and you get: "I know where he is, I can set it up!"
DJ Dan also makes reference to a film that actress Jamie Silberhartz, who plays Rachel Blake, was in called Sissy Frenchfry. He said that there are only 15 seconds that are worth watching in the film, which is subsequently the amount of time Siberhartz appears.
Songs played
"Ohio" by Neil Young (Crosby, Stills, Nash & Young)
"For What It's Worth" by Buffalo Springfield
"Imagine" by John Lennon
"Redemption Song" by Bob Marley
"Rainy Day Women #12 and #35" by Bob Dylan
Trivia
There was a rehearsal for this 'live' show, which was captured HERE. Warning: Strong Language
Pre-show promotion archive
Ads for the live podcast were aired on ABC, and featured on websites for ABC.com, Channel 4, and Channel 7.
The following information was posted on DJDan.am in advance of the show, on August 2nd:
"

LIVE! LIVE! LIVE! ConspiraSpies! Friday, the night of August 11th (PST - USA). For all you Brits and Aussies, that's... Saturday, August 12th? Is that right? Tonya, where's my international time conversion chart?


More details to come! Til then, keep your voices yammering, your hearts beating for the truth, and your EYES ON THE MAN!

"
Updated on August 7th:
"

Who loves ya?


When DJ Dan promises more details he sure as heckfire gives em!


1) Do you have a question that's burned a hole through your brain, trashed your limbic system and kept the ole ticker ramped up to 8000 RPMs? Well, my poor ConspiraSpy, DJ Dan takes pity on your plight! If your question is good... no, GREAT, I will answer it LIVE LIVE LIVE on my Friday, August 11th show! So, get cracking! Send those emails to conspiraspiesunite@hotmail.com!


2) The live show will be on 8/11 at 11 PM Pacific Standard Time, ConspiraSpies!


But, DJ Dan, you ask, where do I tune my interweb browsing software? And when? How do I HEAR THE SHOW??? Sorry kids... you know as well as I that the EYES OF THE MAN are constantly sweeping, searching for good ole DJ Dan. And I ain't gonna let em shut me down!


But, I gotta compromise. The TRUTH is too IMPORTANT to HIDE! So, twelve hours before the show, and not a minute sooner, I'll release the final details. Risky? You bet. But it's the best I can do to throw those loonybirds off the trail.


Til Friday!

"
Updated on August 11:
| | | |
| --- | --- | --- |
| " | Update: Go to www.abc.com and watch out for the dial-in number!! | " |
Updated later that day:
"

DJ Dan's live podcast will be broadcast on radioharvest.com [1] To clarify the time zones:
USA (Pacific) – 11:00PM Friday August 11, 2006
USA (Eastern) - 2:00AM Saturday August 12, 2006
UK - 7:00AM Saturday August 12, 2006
AUS (Sydney) - 16:00PM Saturday August 12, 2006

"
DJ Dan's second live broadcast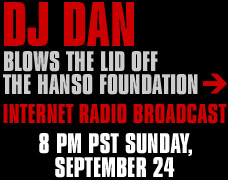 On September 24, 2006, 8 PM LST, DJ Dan hosted a second live call-in podcast lasting approximately an hour and a half. Callers included many dedicated regulars and culminated in Rachel Blake referring us to ABC.com to see her Norway Video.
Transcript
Revelations/highlights
Songs played
"For What It's Worth" by Buffalo Springfield.
"Trampled Underfoot" by Led Zeppelin
"The Loner" by Neil Young
"Take a Bow" by Muse
Trivia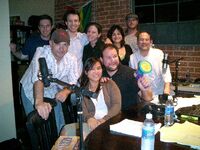 An image of the cast and crew of the second DJ Dan live podcast was released via Javier Grillo-Marxauch's LiveJournal.
Pre-show promotion archive
The following information was posted on DJDan.am in advance of the show:
"

ConspiraSpies - loyal ConspiraSpies, suspicious ConspiraSpies, lonely ConspiraSpies (you KNOW I read those emails!) - I have just one question for you:


DO YOU WANT SOME MORE?
They thought they shut us down. They thought they had us scared. The Hanso Foundation thought they could just swing that pastel hammer of oppression at our noggins and expect us to flinch!! But, did we flinch? Heck n- well... okay, maybe we flinched a little. Pastel hammers of oppression hurt, ConspiraSpies! But are we gonna hide in the shadows with our heads in the sand? Or are we gonna take it on the chin and give 'em one back?


That's right! It's time to liven things up with another LIVE SHOW!!! September 22, 7am PST, it's a DJ Dan Special Live Event: "The DJ Strikes Back!" This time, it's personal.

"
"

Next podcast...


CONSPIRASPIES!! Due to recent and reliable reports stating the 74-storey golden robot Zanthazor will return to orbit once again, disrupting the Earth's ionosphere at precisely 7am Pacific Standard Time on September 22 (thank you, Garthazoid!!)...


...Tonya and I have NO CHOICE but to reschedule my worldwide broadcast to 8pm PST on Sunday, September 24!! For those of you who have already put in for a vacation day, my sincerest apologies, but look at the bright side! Now's the perfect time to do yourself a solid and and spend the day in your official DJ Dan Certified 60 Megaton Bomb Shelter!


Until the 24th, ConspiraSpies, stay suspicious, stay vigilant, shield those eyes from Zanthazor's golden rays, and KEEP SHUTTING DOWN THE MAN!!"

"
| | | |
| --- | --- | --- |
| " | This just in, ConspiraSpies! You knew it was gonna be a doozy, but my special guest on the 24th is gonna blow your minds. Who is it, you ask? Who could it be? Just head on over to www.whereisalvar.com for the straight dope. | " |
September 22nd:
"

Oh, one more thing... keep sending those questions to conspiraspiesunite@hotmail.com. The DJ Dan Mailbag lives!!!


www.radioharvest.com
U.S - 800.210.9080
Outside U.S - +1 800.210.9080

"
External links