The DHARMA manuals were a series of binders found by Sayid in the Flame station in "Enter 77". Sayid looked at one about the food drop and then one about operations. The operations manual contained a map of the cable system and showed the location of the barracks. It also (most probably) contained plans of The Looking Glass.
DI 90M1654-21644 was the code that appears on the manuals. "DI" was likely an abbreviation of "DHARMA Initiative".
Fronts
Food drop binder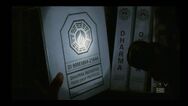 DI 90M1654-21644
DHARMA INITIATIVE
FOOD DROP PROTOCOL
960VKKS      PL390

Operations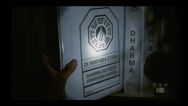 DI 90M1654-21644
DHARMA INITIATIVE
OPERATIONS MANUAL
960VKKS      PL390

Additional codes
The two codes on the bottom, 960VKKS and PL390 also appeared in the same location on the bottom border of DHARMA Initiative food items (which all had the main header code DI 9FFTR731).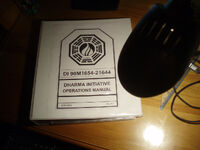 Spines
The sides of the binders seemed to all be identical except that some were skinnier. They all had the Flame logo, the word DHARMA, and a DHARMA Initiative part number "DI 90M1654-21644".
Graphics
Lostpedia user notinpdx has authored an imitation Dharm Initiative Operation Manual cover.
Trivia