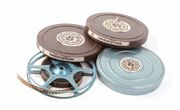 Several DHARMA Initiative films have been featured throughout the series.
Orientation films
The DHARMA Initiative created orientation films for the occupants of the various stations throughout the Island, most of them featuring Pierre Chang under various aliases.
Though the films were originally provided to DHARMA personnel on either film reels or Betamax, the films were later transferred to at least one set of DVDs, which were in the possession of Benjamin Linus.
It has been confirmed in Access: Granted that every DHARMA station has its own orientation film, but all of the films might not be seen.

Hydra Orientation film

---
Swan Orientation film

---
Pearl Orientation video

---
Psychology Orientation test video

---
Sri Lanka video

---
Orchid Orientation video

---
Arrow Orientation film

---

See main article: Arrow Orientation film
Station: The Arrow
Made: 1977
Host: Pierre Chang as "Marvin Candle"
Found by: None
Details: Intended for inhabitants of the Arrow station. While the actual video was not seen, it was being filmed by Pierre Chang. He explained that the purpose of the Arrow was for the development of defenses against the Hostiles. The filming was interrupted after an incident at The Orchid. It is assumed that the recorded footage was scrapped and re-filmed.
Other films
Room 23 film

---
Flame computer video

---
Barracks video

---
Orchid Orientation video outtakes

---

See main article: Orchid Orientation video
Station: The Orchid
Made: Unknown
Host: Pierre Chang as "Edgar Halliwax"
Found by: Lost producers
Details: Shown at a 2007 Comic Con, these outakes feature Dr. Edgar Halliwax holding a white rabbit with the number 15 painted on it. Halliwax becomes concerned when something falls from the ceiling and an identical rabbit suddenly appears on a shelf behind him.
See also
Community content is available under
CC BY-NC-ND
unless otherwise noted.