This article/section is a stub
This article/section is short and lacking information. You can help Lostpedia by expanding it.
This article is in need of images
Picture(s) required: Esp. for non comic-con: Convention logo/poster, organizer logo, and photos from conventions
You can upload images here, and add them to the article by clicking here.
Several fan conventions dedicated to or featuring Lost have been held, in addition to comic conventions and other miscellaneous fan events.
Comic conventions
Cast, crew, and series creators have made appearances at Comic-Con each year from 2004-2009, inclusive, as well as at the 2005 and 2006 Dragon*Con. Notable events include:

One of the many comic conventions where Lost appears.
Official Lost convention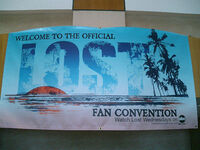 Lost Convention.
Convention organizer Creation Entertainment [1] held The Official "LOST" Fan Convention beginning June 11, 2005, at the Burbank Hilton Convention Center in Burbank, California. Making appearances were writer Javier Grillo-Marxuach and cast member Jorge Garcia.

Lockdown

Lockdown Lost Convention.
Convention organizer Massive Events, Ltd.[2] held the Lockdown Lost convention from April 4-6, 2008 at the Park Inn, Northampton, UK.[3] Making appearances were cast members Andrew Divoff (Mikhail), François Chau (Marvin Candle), Fredric Lehne (Edward Mars), and Adetokumboh M'Cormack (Yemi). Henry Ian Cusick (Desmond) was originally also scheduled to appear, but could not due to a schedule conflict resulting from the WGA strike and subsequent resolution, altering the planned filming schedule for Lost so that he was needed in Hawaii to complete the final five episodes of Season 4[4]
Abrams Incorporated
A follow-up to the Lockdown event called Abrams Inc., was confirmed for the 7th to 9th August 2009 in Northampton, United Kingdom. Michael Emerson was previously announced as a guest to appear. However, due to poor ticket sales, Abrams Inc. was canceled a few months prior to when the event should have taken place.
See also
External links
Zlatna - fan blog entry about the Creation Entertainment Lost convention in 2005
Community content is available under
CC BY-NC-ND
unless otherwise noted.