Parody Alert!
This article's subject matter is parodical and non-canon in nature (but distinct from hoax and serious fanon material)
This material is generally fan-created, but occasionally from official or commercial sources.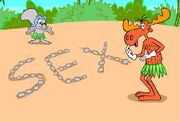 Completely Lost is one of the newest Rocky & Bullwinkle Flash Animated shorts. Others in the series spoof hit dramas as Desperate Housewives and CSI.
The short tells the adventures of the duo as they are stranded in a desert island along with eternal archenemies Boris and Natasha, who invariably try to cause them harm.
Selected highlights
The announcer speaks about twenty strangers.
Reference is made to the death of the pilot.
SPOILER
External links
Community content is available under
CC BY-NC-ND
unless otherwise noted.