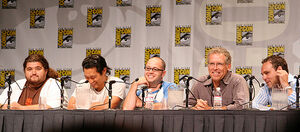 Comic conventions are fan conventions held annually to celebrate and promote the comic book, comic art and animation/anime industry. Over the years, they have extended to cover a number of TV shows, movies, video games and other pop culture elements popularized by or associated with the science fiction or fantasy genres. They feature interactive discussion panels, special shows and workshops, and encourage fans to dress up in costumes of their favorite characters (known as "cosplay").
Two of the largest conventions, Comic-Con and Dragon*Con, have in the past showcased material from Lost. Both have also included discussion panels in which Lost writers, producers and cast answered fan questions and showed spoilerish material for the next season. The crossover between the Lost and comic book world is considerable - not only due to the overlapping interest of fans in both groups but also due to the fact that many of the writers are professed fans of comic books and/or former comic writers themselves.
Comic-Con
Founded in 1970
Held annually in the summertime in San Diego, CA
2004
2005
2006
See complete 53:36 min transcript at main article: Official Lost Podcast transcript/July 31, 2006
Video
Rachel Blake's appearance at Comic-Con 2006
 	 	   

2007
See Official Lost Podcast transcript/August 2, 2007 for a partial transcript of the interview
The Lost Season 4 panel appeared on Thursday, July 26 in the San Diego Convention Center's Ballroom 20.[1]
The promotional text read:
| | | |
| --- | --- | --- |
| " | " 5:00-6:00 Lost Season 4 — If the Lost finale was any indication of things to come, you will not want to miss this panel! Co-creator/executive producer Damon Lindelof and executive producer Carlton Cuse will discuss the exciting new season of ABC's Lost, all leading up to the ultimate series finale. They'll spotlight bonus features from the 3rd season DVD box set, preview the new Lost video game, take questions from the audience, and perhaps serve up more surprises. " | " |
Following the interview was a short film, information about which can be found under the Orchid article.
Video
Part 1
 	 	   

Part 2
 	 	   

Part 3
 	 	   

Part 4
 	 	   

2008
Lost's producers appeared at Comic-Con 2008, which was held between 24th-27th July 2008, the same 3 days and location promoted in the Octagon Global Recruiting advertisement.
A Lost panel was held on Saturday at around noon.[2]
Video
Part 1
 	 	   

Part 2
 	 	   

Part 3
 	 	   

Part 4
 	 	   

Part 5
 	 	   

Part 5 Cut version
 	 	   

2009
2009's Comic-Con panel was the final Comic-Con for Lost. Besides Carlton Cuse and Damon Lindelof it featured Jorge Garcia, Michael Emerson, Nestor Carbonell, Josh Holloway and Dominic Monaghan.
Videos shown:
a collection of some fan-generated content
 	 	   

 	 	   

 	 	   

 	 	   

Video
Part 1
 	 	   

Part 2
 	 	   

Part 3
 	 	   

Part 4
 	 	   

2010
There was no LOST panel at Comic-Con 2010. In San Diego, Elizabeth Mitchell attended her "V" panel and J.J. Abrams also attended the event.
2011
Entertainment Weekly Presents...Totally LOST: One Year Later— EW's Lost gurus Jeff "Doc" Jensen and Dan "Dan" Snierson wax nostalgic about the past, perhaps with a surprise guest or two, and discuss how they're "moving on" in the wake of Lost's departure from the air a year ago. The duo will look to the future by previewing promising TV obsessions. Room 5AB
LOST had a panel at Comic-Con 2011 where there were surprise guests in Damon Lindelof and Carlton Cuse; the "spat" between the executive producers on Twitter merely a ruse to hide their appearances.
The executive producers answered the question of whether they truly did know the ending of the show way back in season one by shocking the crowd by announcing there is footage they deleted from the "Exodus, Part One", Cuse calling it "too much."
Lost director Jack Bender himself shot the new footage on the Disney backlot on a patch of lawn near where "Brothers & Sisters" used to film, and Titus Welliver and Mark Pellegrino happily showed up to do it."
 	 	   

Dragon*Con

Founded in 1987
Held annually in Atlanta, GA
2005
Guest appearance by Javier Grillo-Marxuach (though somewhat buried out in the X-Track room, instead of the TV-Track rooms).
2006
London Film and Comic Con
The 2009 London Film and Comic Con featured Dominic Monaghan, but did not otherwise have any Lost-specific events. The convention was held on September 1-2, 2007. [3]
See also
External links