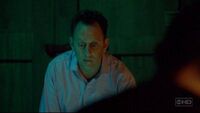 Ben: "Two days after I found out I had a fatal tumor on my spine, a spinal surgeon fell out of the sky." ("

The Cost of Living

")
Coincidences, often wildly improbable coincidences, occurred frequently in the plot of Lost. The characters discusses coincidence, sometimes in the context of destiny, or religious faith.
Many of the apparent coincidences, particularly character connections, turned out to result from the characters' common bonds as candidates to protect the Island. The show included some apparent coincidences, such as frequent appearances of the Numbers and other recurring motifs, for thematic reasons. This article lists other plot-related coincidences and instances of the characters' specifically referencing coincidence.
Season 1
Season 2
Season 3
Locke said to Desmond: "Don't mistake coincidence for fate." ("

The Cost of Living

")
Christian Shephard often told Jack a metaphor for the futility of trying to change one's fate, when he says "That's why the Red Sox will never win the World Series". The footage that Ben shows Jack on the Hydra television to prove their connection to the outside world just happened to be of the Red Sox winning the World Series. ("

Outlaws

")  ("

The Glass Ballerina

")
Ben learned he had spinal cancer. Two days later, Jack, a spinal surgeon, crashed on the Island. ("

The Cost of Living

")
Cassidy was conned by Sawyer and then worked a con with Kate. ("

Left Behind

")
Season 4
Ana Lucia's former partner ended up questioning Hurley at the police station. ("

The Beginning of the End

")
Locke survived the shot from Ben because the kidney which was supposed to be there was removed. ("

Confirmed Dead

")
Dan was from Essex, Massachusets. Charlotte was from Essex, England. ("

Confirmed Dead

")
Both Ben and John were born prematurely to a woman named Emily. ("

Cabin Fever

")
The key to Hurley's Camaro was on a rabbit-foot key chain, as was the key to the van on the island. ("

There's No Place Like Home, Part 1

")
Season 5
Season 6
David Shephard played the same piece of music on the piano that Daniel Faraday played. ("

Lighthouse

")
Jack told Locke that he might be mistaking coincidence for fate. ("

What They Died For

")
Names
Some names are given to two or more characters. Some notable coincidences:
Many characters are also named David or Tom.
See also
Community content is available under
CC BY-NC-ND
unless otherwise noted.