Cigarette ends in the Pearl - evidence of one of the show's several instances of smoking. ("

?

")
Lost occasionally featured cigarettes and smoking.
On the Island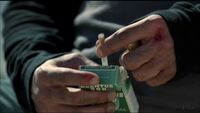 Sawyer's cigarettes in the pilot episode.
Off-Island
Cigarette stubs can be seen in the ashtray in Christian Shephard's hotel room in "

White Rabbit

". However, Christian has never been seen smoking in any of the episodes where he appeared, including the bar scenes where other people were smoking (e.g., in "

Outlaws

"), and according to the maid he had not slept in his hotel room in three days.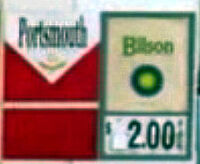 Portsmouth and Bilson brands from the gas station. ("

The Long Con

")
Charlie tried to steal an expensive, antique cigarette case from Francis Heatherton to pay for his drug habit. ("

Homecoming

")
It is known that Sawyer smoked cigarettes prior to crashing on the Island. He was seen smoking in a bar in both "

Confidence Man

" and "

Outlaws

". He was also holding a cigarette when Cassidy visited him in jail during "

Every Man for Himself

".
Locke was trying to light up after his support group meeting in "

Orientation

".
Eric's Expert Service gas station, where Sawyer played a con in "

The Long Con

", featured Portsmouth and Bilson brand cigarettes. The Portsmouth was similar to Marlboro, and Bilson appeared to be a type of Menthol due to its green Logo.
The origin of the Portsmouth brand is unknown. The name Portsmouth also appeared on the Black Rock in Exodus as its home port, and is also mentioned in The Lost Experience in the Rachel Blake Copenhagen 02 entry. It is also the birthplace of Charles Dickens.
Bilson cigarettes appeared in the 2002 film May (in the film and/or the DVD commentary). Also, George Bilson co-wrote the screenplay for the 1945 film What, No Cigarettes?. However the connection of these two possibilities to Lost are unknown. The brand may be named for Gregg Bilson, Sr. Bilson is the founder of Independent Studio Services, a company that produces props for the film and television industry. Examples of Bilson and Brezza cigarette packs can be found on the website of Studio Graphics, the company's graphic design and print shop.
Miscellaneous
Janelle Granger revealed in her ABC website diary that she quit smoking a year before the crash.
In the January 23, 2006 official podcast, Damon Lindelof and Carlton Cuse joked about a script in the writer's room inside a glass box marked "In Case of Cancellation - Break Glass". This script is said to be a 4 page scene in which Joop, a talking orangutan, will explain every mystery on the Island while smoking a pipe.
See also
External links
Community content is available under
CC BY-NC-ND
unless otherwise noted.