| | | |
| --- | --- | --- |
| | Lostpedia has conducted an interview with Christopher Jaymes. To read this interview, please see here. | |
Christopher Jaymes portrayed the doctor in the Season 5 episode "LaFleur".
Background and Personal Life
Christopher Jon Jaymes was born on July 19, 1973 in Long Beach, California. His father left while Jaymes was still very young, and he lived for most of his early life with his mother, eventually moving to Los Angeles at the age of seventeen, where he lived with several people, including actor Jason Lee. During his teenage years, Jaymes was an avid scuba diver and skateboarder, and snow skiing. At the age of eighteen, Jaymes developed an interest in the piano, spending four terms at Berklee College of Music in Boston, studying piano, arranging and orchestration. Following his time at Berklee, he tried his hand in the music industry, touring with several bands until returning to acting in 1994.
In 1994, Jaymes had a short-lived marriage with Gabriella Perotti, which resulted in one child, Gabrielle Lauzier. Jaymes was present in Thailand during the 2004 tsunami, and wrote a book, Boxing Day, describing his experiences.
Career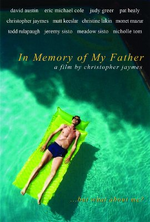 Jaymes' first acting role came in a Footlocker commerical, a role which he received based on his skating background. Soon afterward, Jaymes guest starred in a 1990 episode of the sitcom The Fresh Prince of Bel-Air. The very next year, he appeared in Murder in New Hampshire: The Pamela Wojas Smart Story, alongside Helen Hunt.
Following a six-year hiatus in which Jaymes became involved in music, he guest starred on Party of Five, which starred Matthew Fox in 1996, and once again in 1997. Jaymes also guest starred in a 1997 episode of Touched By an Angel. Various small roles, including ones on N.Y.P.D. Blue and The Fugitive followed. In 2005, Jaymes wrote, directed, and starred in the film In Memory of My Father, which featured Marc Vann.
On Lost
In early 2009, Jaymes received the role of a DHARMA Initiative doctor on Lost. During casting, the character was described as a "Smart, hippy-ish, well-trained doctor who finds himself thrown into a situation outside of his medical experience and has to adjust." The character appeared in the episode "LaFleur," and has not reappeared since.
Selected Filmography
| Title | Medium | Character | Year(s) |
| --- | --- | --- | --- |
| Lost | TV series | Doctor | 2009 |
| In Memory of My Father'' | Film | Chris (also writer and director) | 2005 |
| The Fugitive | TV series | Bobby Silver | 2000 |
| N.Y.P.D. Blue | TV series | Michael Banks | 1999 |
| Little Savant | Film | Zeke | 1999 |
| Vengeance Unlimited | TV series | Jimmy | 1998 |
| Some Girl | Film | Ben | 1998 |
| Party of Five | TV series | Guy #1/Jon | 1996-1997 |
| Touched by an Angel | TV series | Jonah | 1997 |
| Father's Day | Film | Gas Station Guy | 1997 |
| Murder in New Hampshire: The Pamela Wojas Smart Story | TV movie | Raymond Fowler | 1991 |
| The Fresh Prince of Bel-Air | TV series | Chad | 1990 |
External Links