Carole Littleton is Claire's Mother, Lindsey's Sister, Aaron's Grandmother, Christian Shephard's Ex-Lover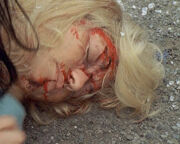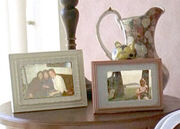 Very little is known about Carole. Claire said she was a librarian. About 17 years prior to the events of "Par Avion", Carole met Christian Shephard in Los Angeles. The two immediately hit it off, and they had an affair. It is unknown how long it lasted, but it ended with Carole becoming pregnant.
She relocated back to Australia, where she gave birth to Claire. Christian supported her and the baby, came down to visit several times, and he even paid for her house's mortgage. However, neither Carole nor her sister Lindsey approved of Christian dividing his time between families, and they made him promise to never come back.
Carole decided to tell Claire that her father was killed when Claire was two, and she proceeded to raise Claire by herself, working as a librarian. Unfortunately, Claire became angry and reclusive, adopting a Goth-like lifestyle. Claire later commented that she was "horrible" to Carole.
The two were driving down a freeway when they had a ferocious argument. Claire shouted that she hated Carole, and that she wished she was dead. She was speeding when she hit a truck, and was forced off the road. Carole, who was not wearing her seatbelt, was thrown through the windshield, and she landed hard on the pavement.
Though the doctors were able to save her life, she was left in a coma. Christian immediately flew down to see her, and he paid for all of her hospital expenses. He introduced himself formally to Claire as her father, and he suggested, reluctantly, that she be taken off life support, since there was no hope of her recovering or ever leading a normal life again.
Claire decided that she could not go through with it, and Carole was kept alive for many years. It was revealed that she is still in the coma when Claire became pregnant and went on the doomed flight. ("Par Avion")
Carole revived from her coma sometime after the crash. After the rescue of the Oceanic 6, she attended the funeral of Christian Shephard. She then spoke to Jack after the funeral, revealing to him that she had an affair with Christian, and that their daughter, Claire, was Jack's half-sister and was on the plane with Jack. As Jack tries to maintain his calm, she apologizes and leaves. On her way out, she notices Kate holding Aaron, and notes that the baby is beautiful, not realizing that it is her own grandson. ("There's No Place Like Home, Part 1")
Casting
Unanswered questions
Unanswered questions
Do not answer the questions here.
Keep the questions open-ended and neutral: do not suggest an answer.
For fan theories about these unanswered questions, see: Carole Littleton/Theories
Why did Carole keep Claire from knowing that her father was alive?