Bryan Sato played the role of Richard, an uncredited background character chosen by Bernard to build the SOS sign. Sato is also an original and regular member of the beach survivor background extras. He has since left the background cast and moved to Los Angeles.
Sato was born and raised on the island of Hawaii in Hawaii Kai.
Sato graduated from at the University of Hawaii System, Kapi'olani Community College campus in 2004 with an Associates degree in Travel and Tourism.
Is also an actor/model and is registered with the "Kathy Muller Talent Agency" which is based out of Honolulu, Hawaii.
Has extensive credits as a commercial actor, including commercials for McDonald's Hawaii, J.T.B., Bucca Di Peppo, Dave & Busters, Burger King, and Oral Care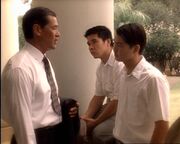 Just finished filming for The First Battle, a TV documentary
Sato was a background actor in a video for the FCS (Future Combat Systems) for the U.S army.
He was working on LOST as a background actor in his third year of the show.
In April 2007, Sato moved to Los Angeles to further pursue his acting career.[1]
Bryan Sato's Myspace page says that he is in Los Angeles and pursuing an acting over there. His latest blog says that he has signed up with a modeling and print agency and will hopefully get a theatrical and commercial agent soon.
On his Myspace blog, he stated that he represented by a Modeling and Print Agency in Los Angeles. No word of which modeling agency company.
His date of birth is December 11 and he is 5'11 in Height.
Favorite television shows are LOST, Smallville, Prison Break, Heroes, Grey Anatomy, House, Whose Line Is It Anyway?, Food Network, Friends, and Seinfeld [2]
Trivia
Sources founded on Midweek Weekend by Joji Yoshida
Sato's zodiac symbol is Sagittarius.
His favorite movie is Star Wars.
His favorite actor is Tom Hanks.
See also
External links
Community content is available under
CC BY-NC-ND
unless otherwise noted.