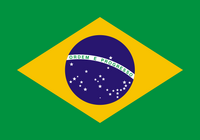 In Brazil the series is named Lost, as in English. There are some references to Brazil in the show.
Brazilian Cast
Portuguese language
Portuguese, the official language of Brazil, is featured throughout the series (though unconfirmed if these instances are directly related to Brazil, or perhaps to Portugal):
Broadcast

AXN: Subtitled, Tuesday at 9pm. First episode, fourth season, shown March 3rd, 2008 and last episode shown on June, 30th, 2008. Season 5's first episode was aired on March 5th, 2009. In the sixth and final season, for the very first time in Brazilian television history, the episodes will be broadcasted subtitled only one week after ABC's original transmission.

Rede Globo: (open signal), Dubbed, from Monday to Friday with a few scheduled breaks, around 1am. Season 4 aired from January 11st, 2009 to January 27th, 2009, and its first two episodes were aired in sequence exceptionally on Sunday. Season 5 will air from January 4th, 2010 to January 29th, and the final season will have its broadcast early 2011.
See also: Airdates of Lost
DVD
DVD box from the first season was released in early 2006 because Rede Globo wanted to end the broadcast of the season on the open signal firstly, delaying the original date; the second season box was released in the end of 2006; the third season was made avaiable in September, 2007 and the fourth season box was launched in September, 2008, both two months before their launch on the United States; season 5 was released in November, 2009 and season 6, in late 2010. Brazil also released other DVD versions of fourth and fifth seasons. Discs containing 3 or 4 episodes each were sold monthly only a few weeks after their broadcast on ABC in an attempt to discourage internet illegal downloads.
In Lostpedia
There are many Brazilians in the list of Lostpedians. To see the list of Brazilian users click here.
See also
External links