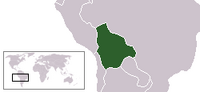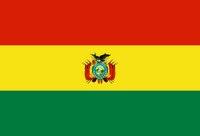 In Bolivia Lost is known as DESAPARECIDOS (the plural of Lost in Bolivia's native Spanish).
Bolivian Broadcasts
AXN: (Channel available through paid Cable programming) Subtitled, Mondays at 9 pm and repeats Tuesday at 11 am and 4 pm, Sundays at 8 pm and Mondays at 8 pm. This channel is broadcast to all Latin America. First episode shown March 7, 2005. (Bolivia Time is -4 GMT)
Unitel (Open signal) Sundays at 12:30 am (local time) (Bolivia Time is -4 GMT)
Dubbing
See main article Voice actors
In Bolivia, Lost in its open signal transmission is dubbed to Spanish with Mexican accent Spanish, a more "Latin American" dubbing, than the dubbing that is made with Spanish actors
Piracy
In Bolivia, piracy of DVDs is a very common habit, and it also hit Lost, actually the 2nd season was realeased before on pirate DVDs than the broadcasts in open signal or payed cable programming.
Downloading
Downloading in Bolivia is also very common, a lot of fans download the ABC's broadcasts one or so days after the original broadcasts in the US.
Original DVDs
In Bolivia, the original DVDs, either from season 1 or 2 are not available in Bolivia, the only way to get the original DVDs is to make a special order from an international seller
External Links
UNITEL: http://www.unitel.tv/ AXN: http://www.canalaxn.com/