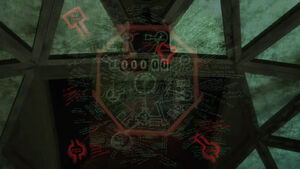 The newer version of the blast door map, as seen in a trailer for Lost: Via Domus, with the new information annotated in red. ("

Forty-Two

")
Lost: Via Domus features a different version of the blast door map that contains more information than the map shown in "Lockdown". The video game version of the map includes extra notations, as well as new locations. Presumably these new locations were not included on the original map to avoid spoilers, as they were featured in episodes that premiered after the video game release date.
Although this version of the map was in a non-canonical video game, it is considered canon due to comments by the producers in Access: Granted. There have however been mixed messages from the producers on the subject.1
New notations
"Quid est veritus?" which translates as "What (or why) did he fear?" (from vereor, "to fear"). The answer to this question is the famous Latin anagram "Est vir qui adest", meaning "It is the man who is here".
"Hostile controlled" is written next to the Barracks.
"C1?" is re-outlined with the words "Possible Orchid?" pointing at it.
"Tempus edax rerum" is written across the top of the possible Orchid. Meaning "Time is the devourer of things".
"Convinced island is Hydra. Tunnel blocked - work to access" is written next to the Hydra.
"Cables running offshore - possible Looking Glass" is written next to the Looking Glass.
"Aegri Somnia" - which translates as "a sick man's dreams" or "troubled dreams".
New locations
Geographical inconsistencies
The Barracks is show on the East side of the Island instead of the west side.
Unanswered questions
Who created the new notations on the blast door map?
See also
Note
1 In Access: Granted, the producers refer to the visibility of more information on the map under different lighting conditions. Although they have stated that Via Domus is non-canon, they also stated that there is a canonical addition to the blast door map, which was seen in "Forty-Two".
Community content is available under
CC BY-NC-ND
unless otherwise noted.