Lost contains numerous references to the Bible. "The Bible" refers to the Holy Books of both Judaism and Christianity. There were many references to Biblical people and events made throughout the storyline.
Explicit references
Physical appearances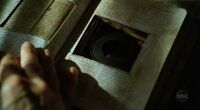 Episode titles
Bible verses quoted
Eko's stick
Eko's stick quoted several additional biblical verses, including those from Genesis, Psalms, and the Gospels.
Biblical figures
Jesus Christ
Moses
Several characters referenced Moses explicitly, and other events seemed to allude to the story of Moses and Aaron.
Religious art
The Season 6 cast photo "The Lost Supper" was modeled after the painting The Last Supper.
The Incredulity of Saint Thomas was referenced by Ben while at the church that The Lamp Post was located underneath.("

316

") According to St John's Gospel, Thomas missed one of Christ's appearances to the Apostles after His resurrection. He therefore announced that, unless he could thrust his hand into Christ's side, he would not believe what he had been told. A week later Christ appeared, asked Thomas to reach out his hands to touch Him and said, "Blessed are those who have not seen and yet have believed."
Biblical allusions
Biblical names
Old Testament
New Testament
Christ figures
Jacob and Esau
There are many Biblical similarities between Jacob and Esau from the Bible and the battle between Jacob and The Man in Black on the Island. In the Room 23 video and the Orchid Orientation outtakes, the phrase "God loves you as He loved Jacob" is seen. ("Not in Portland") (Orchid Orientation outtakes) The Bible says that Esau was a hunter and loved to be outdoors, while Jacob was more quiet and liked to stay at home. "The boys grew up, and Esau became a skillful hunter, a man of the open country, while Jacob was a quiet man, staying among the tents." -Genesis 25:27.
Jacob, son of Isaac, was the twin brother of Esau, who was born just minutes before him. As the oldest son, Esau was given a certain birthright that Jacob didn't get. When they were 15 years old, Jacob tricked Esau out of his birthright. But Jacob said, "Swear to me first." So he swore an oath to him, selling his birthright to Jacob. So Esau gave an oath, trading away his inheritance and his rights as the firstborn son. Then Jacob gave Esau some bread and stew. Esau ate and drank and went on his way – not realizing that he had just given up his inheritance. Esau vowed to kill Jacob as a result, which was prevented when Rebekah heard of it and sent Jacob away to live with her brother Laban. [1] Jacob had 12 children, the youngest of which was named Benjamin. Benjamin's mother, Rachel, died at childbirth. [2]
Much like on the Island, the Man in Black couldn't kill Jacob directly. He tried to find a loophole, and used Ben to kill Jacob. ("The Variable")
Several other verses connect to Lost and the battle between Jacob and the Man in Black.
Jacob's Ladder
Jacob's Ladder refers to the story told in Genesis 28:11-19, during which the Biblical patriarch Jacob has a dream or vision of a ladder to heaven ascended and descended by angels. In this Biblical story, God reassures Jacob of the Covenant, promising him land and numerous descendants. In the New Testament, Jesus alludes to Jacob's ladder saying "I tell you the truth, you shall see heaven open, and the angels of God ascending and descending on the Son of Man." (John 1:51)
Job
The beginning of "The Incident, Part 1" with Jacob and the Man in Black strongly paralleled the story from the Book of Job, in which God and Satan disagree on the nature of Job's faithfulness. The disagreement is allowed to play out in Job's own life, just as the disagreement between Jacob and his enemy plays out in the Island's history. ("The Incident, Part 1")
Infertility
In the ancient world barrenness was associated with disfavor from God. The LORD often chose barren women or women far past the age of childbearing and allows them to have children. This almost always shows that the miraculous child will be significant.
Sarai/Sarah, Abraham's wife, is infertile but God tells Abraham that Sarah will have a son, which she does and calls him Isaac. (Genesis 21:1-3)
Rebekkah, Isaac's wife, is barren, but Isaac prays to the Lord on her behalf, and she becomes pregnant. (Genesis 21)
Rachel, Jacob's wife, is barren but is cured of her infertility. (Genesis 30:22)
Hannah is infertile, but then has seven sons. (1 Samuel 2:20-21)
Samson's mother Anonymous, but miraculously gives birth to the Judge Samson. (Judges 13:1-5)
Elizabeth is beyond child-bearing years, but she conceives and gives birth to John the Baptist. (Luke 1:57-58)
See also
External links
Bible Online - read all 66 books of the Bible and search for specific passages