Bethany James Leigh Shady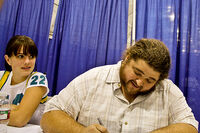 Bethany James Leigh Shady

Bethany James Leigh Shady is a background extra who portrays a survivor of Flight 316. She also appeared in the waiting lounge of the airport prior to the boarding of Ajira Airways Flight 316. Beth also appeared as a party guest during Hurley's surprise birthday. She also appeared as an Iraqi woman in "The Shape of Things to Come". She was formerly the real-life girlfriend of Jorge Garcia, the actor who portrays Hurley.
Bethany, originally from Milwaukee, is a writer. Much of her writing can be found at her website BethanyShady.com. In early 2010 she had her first children's book, Matilda Turnip's Endless Belly Button, published, and she is currently working on a young adult novel. She moved to Hawaii in 2007, after living in multiple cities in California for ten years.
To coincide with the final season of the show, Bethany, who online goes by the name Sidekick22, and Garcia started a Lost podcast called Geronimo Jack's Beard. Its first episode was released on February 3, 2010.
Bethany has appeared in the following episodes of Lost:
External links
Community content is available under
CC BY-NC-ND
unless otherwise noted.