This article or section has been nominated for an update
The content should be updated to include new information that has been released, specifically Time magazine Season 4 awards [1].
You can help Lostpedia by updating it.
This page is about real life awards that have been won by the team that produces Lost. For a list of awards available to editors in the Lostpedia community, see the Medal Template Category.
For the Lostpedia awards leaderboard, see Special:Leaderboard.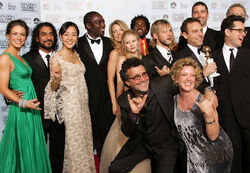 Awards in the TOC above are organized alphabetically by informal name; awards below are alphabetical by formal name.
Award
Year
Ratio:
Wins/Total Nom.
Wins
Other Nominations




Academy of Science Fiction, Fantasy & Horror Films, USA (aka Saturn Awards)
2004
2/5
Best Network Television Series


Best Supporting Actor on Television
Terry O'Quinn

Best Actor on Television


Matthew Fox
Best Actress on Television
Evangeline Lilly
Best Supporting Actor on Television
Dominic Monaghan




Academy of Science Fiction, Fantasy & Horror Films, USA (aka Saturn Awards)
2005
3/7
Best Actor on Television


Matthew Fox
Best Network Television Series
Best Television Release on DVD
Season 1

Best Actress on Television


Evangeline Lilly
Best Supporting Actor on Television
Adewale Akinnuoye-Agbaje
Best Supporting Actor on Television
Terry O'Quinn
Best Supporting Actress on Television
Michelle Rodriguez




Academy of Science Fiction, Fantasy & Horror Films, USA (aka Saturn Awards)
2006
0/7
Best Network Television Series


Best Actor in a Television Series
Matthew Fox
Best Actress in a Television Series
Evangeline Lilly
Best Supporting Actor in a Television Series
Michael Emerson
Best Supporting Actor in a Television Series
Josh Holloway
Best Supporting Actress in a Television Series
Elizabeth Mitchell
Best Television Series on DVD
Lost (The Complete Second Season) (Buena Vista)





Academy of Science Fiction, Fantasy & Horror Films, USA (aka Saturn Awards)
2007
4/8
Best Network Television Series


Best Actor in a Television Series
Matthew Fox
Best Supporting Actor in a Television Series
Michael Emerson
Best Supporting Actress in a Television Series
Elizabeth Mitchell


Best Actress in a Television Series


Evangeline Lilly
Best Supporting Actor in a Television Series
Josh Holloway
Best Supporting Actor in a Television Series
Terry O'Quinn
Best Television Series on DVD
Lost (The Complete Third Season) (Buena Vista)





Academy of Science Fiction, Fantasy & Horror Films, USA (aka Saturn Awards)
2008
1/12
Best Network Television Series

Best Actor in Television


Matthew Fox
Best Actress in Television
Evangeline Lilly
Best Supporting Actor in Television
Michael Emerson
Best Supporting Actor in Television
Henry Ian Cusick
Best Supporting Actor in Television
Josh Holloway
Best Supporting Actress in Television
Yunjin Kim
Best Supporting Actress in Television
Elizabeth Mitchell
Best Guest Starring Role in a Television Series
Alan Dale
Best Guest Starring Role in a Television Series
Kevin Durand
Best Guest Starring Role in a Television Series
Sonya Walger
Best Television Series Release on DVD
Lost (The Complete Fourth Season) (Walt Disney)





Academy of Science Fiction, Fantasy & Horror Films, USA (aka Saturn Awards)
2009
2/9
Best Network Television Series


Best Actor on Television
Josh Holloway


Best Actor on Television


Matthew Fox
Best Actress on Television
Evangeline Lilly
Best Supporting Actor on Television
Michael Emerson
Best Supporting Actor on Television
Jeremy Davies
Best Guest Starring Role on Television
Mark Pellegrino
Best DVD Television Release
Lost (The Complete Fifth Season) (Walt Disney)


Academy of Television Arts and Sciences (aka The Emmys)
2005
6/12
Outstanding Drama Series


Outstanding Casting for a Drama Series
April Webster, Mandy Sherman, Alyssa Weisberg, Veronica Collins
Outstanding Directing for a Drama Series
J.J. Abrams ("Pilot, Part 1")  ("Pilot, Part 2")
Outstanding Music Composition for a Series (Dramatic Underscore)
Michael Giacchino
Outstanding Single-Camera Picture Editing for a Drama Series
Mary Jo Markey ("Pilot, Part 1")  ("Pilot, Part 2")
Outstanding Special Visual Effects for a Series
Kevin Blank (visual effects supervisor), Mitch Suskin (visual effects supervisor), Archie Ahuna (special effects supervisor), Spencer Levy (CGI supervisor), Benoit Girard (CGI supervisor), Laurent M. Abecassis (CGI supervisor), Kevin Kutchaver (visual effects compositor), Steve Fong (visual effects compositor), Bob Lloyd (visual effects compositor)


Outstanding Supporting Actor in a Drama Series


Naveen Andrews as Sayid
Outstanding Supporting Actor in a Drama Series
Terry O'Quinn as John Locke
Outstanding Writing for a Drama Series
J.J. Abrams, Damon Lindelof, Jeffrey Lieber ("Pilot, Part 1")  ("Pilot, Part 2")
Outstanding Writing for a Drama Series
David Fury ("Walkabout")
Outstanding Single-Camera Sound Mixing for a Series
Michael Moore (production sound mixer), Scott Weber (re-recording mixer), and Frank Morrone (re-recording mixer) ("Outlaws")
Outstanding Sound Editing for a Series
Thomas DeGorter (supervising sound editor), Christopher B. Reeves (sound editor), Gabrielle Gilbert Reeves (sound editor), Trevor Jolly (sound editor), Paul Menichini (sound editor), Roland N. Thai (sound editor), Marc Glassman (sound editor), Maciek Malish (sound editor), Troy Allen (sound editor), Stephen M. Davis (music editor), Patrick Cabral (foley artist), Cynthia Merrill (foley artist) ("Pilot, Part 1")




Academy of Television Arts and Sciences (aka The Emmys)
2006
0/9
Outstanding Casting for a Drama Series


April Webster (casting by) , Veronica Collins (casting by) , Mandy Sherman (casting by)
Outstanding Cinematography for a Single-Camera Series
Michael Bonvillain (director of photography) ("Man of Science, Man of Faith")
Outstanding Directing for a Drama Series
Jack Bender (director) ("Live Together, Die Alone, Part 1")
Outstanding Guest Actor in a Drama Series
Henry Ian Cusick as Desmond
Outstanding Single-Camera Picture Editing for a Drama Series
Sarah Boyd (edited by) ("One of Them")
Outstanding Single-Camera Picture Editing for a Drama Series
Sue Blainey (edited by), Stephen Semel (edited by), Sarah Boyd (edited by) ("Live Together, Die Alone, Part 1")
Outstanding Single-Camera Sound Mixing for a Series
David Yaffe (production sound), Sean Rush (production sound), Frank Morrone (re-recording mixer), Scott Weber (re-recording mixer), ("Live Together, Die Alone, Part 2")
Outstanding Special Visual Effects for a Series
Kevin Blank (visual effects supervisor), Mitch Suskin (visual effects supervisor), Jay Worth (visual effects coordinator), Scott Dewis (3d animator), Steve Fong (compositor), Spencer Levy (3d supervisor), Eric Chauvin (matte painter), Archie Ahuna (special effects coordinator), Bob Lloyd (compositor) ("Live Together, Die Alone, Part 1")
Outstanding Writing for a Drama Series
Carlton Cuse (written by), Damon Lindelof (written by), ("The 23rd Psalm")




Academy of Television Arts and Sciences (aka The Emmys)
2007
1/5
Outstanding Supporting Actor In A Drama Series

Outstanding Directing For A Drama Series


Jack Bender (director) ("Through the Looking Glass, Part 1")
Outstanding Single-Camera Picture Editing For A Drama Series
Stephen Semel (editor), Mark J. Goldman (editor), Henk Van Eeghen (editor), Christopher Nelson, A.C.E. (editor) ("Through the Looking Glass, Part 1")
Outstanding Supporting Actor In A Drama Series
Michael Emerson as Ben
Outstanding Sound Editing For A Series
Thomas DeGorter (supervising sound editor), Paula Fairfield M.P.S.E. {sound editor), Carla Murray M.P.S.E. (sound editor), Maciek Malish M.P.S.E. (sound editor), Jay Keiser (sound editor), Joe Schultz (sound editor), Geordy Sincavage (sound editor), Alex Levy (music editor), Doug Reed (foley artist), Cynthia Merril (foley artist) ("A Tale of Two Cities")
Outstanding Writing For A Drama Series
Damon Lindelof (written by), Carlton Cuse (written by) ("Through the Looking Glass, Part 1")




Academy of Television Arts and Sciences (aka The Emmys)
2008
1/8
Outstanding Sound Mixing for a Comedy or Drama Series (One-Hour)


Robert Anderson (production mixer), Frank Morrone (re-recording mixer), Scott Weber (re-recording mixer) ("Meet Kevin Johnson")


Outstanding Cinematography for a One-Hour Series


John Bartley (director of photography) ("The Constant")
Outstanding Drama Series
Outstanding Music Composition for a Series (Original Dramatic Score)
Michael Giacchino
Outstanding Single-Camera Picture Editing for a Drama Series
Henk Van Eeghen (editor), Robert Florio (editor), Mark J. Goldman (editor), Stephen Semel (editor) ("There's No Place Like Home, Part 2")
Outstanding Sound Editing for a Series
Thomas deGorter (supervising sound editor), Paula Fairfield (sound editor), Carla Murray (sound editor), Maciek Malish (sound editor), Lloyd Jay Keiser (sound editor), Joseph Schultz (sound editor), Jim Bailey (foley artist), Cynthia Merril (foley artist), Alex Levy (music editor) ("The Shape of Things to Come")
Outstanding Supporting Actor in a Drama Series
Michael Emerson as Ben


---

Outstanding Special Class - Short-format Live-action Entertainment Programs
Damon Lindelof (Executive Producer), Carlton Cuse (Executive producer), Barry Jossen (Executive Producer) (Missing Pieces)





Academy of Television Arts and Sciences (aka The Emmys)
2009
1/5
Outstanding Supporting Actor in a Drama Series

Outstanding Drama Series
Outstanding Writing for a Drama Series
Carlton Cuse and Damon Lindelof for "

The Incident, Part 1

"
Outstanding Single-Camera Picture Editing For A Drama Series
Stephen Semel, Mark Goldman, Chris Nelson for "

The Incident, Part 1

"
Outstanding Sound Mixing For A Comedy Or Drama Series (One Hour)
Robert Anderson, Ken King, Scott Weber, and Frank Morrone for "

The Incident, Part 1

"




Academy of Television Arts and Sciences (aka The Emmys)
2010
1/13
Outstanding Single-Camera Picture Editing for a Drama Series


Stephen Semel, Mark J. Goldman, Christopher Nelson, Henk Van Eeghan for "The End"

Outstanding Drama Series


Outstanding Lead Actor in a Drama Series
Matthew Fox as Jack
Outstanding Supporting Actor in a Drama Series
Michael Emerson as Ben
Terry O'Quinn as the Man in Black/John Locke
Outstanding Guest Actress in a Drama Series
Elizabeth Mitchell as Juliet "The End"
Outstanding Writing for a Drama Series
Damon Lindelof and Carlton Cuse for "The End"
Outstanding Directing for a Drama Series
Jack Bender for "The End"
Outstanding Single-Camera Picture Editing for a Drama Series
Stephen Semel, Mark J. Goldman, Christopher Nelson, Henk Van Eeghan for "The End"
Outstanding Sound Editing for a Series
"The End"
Outstanding Sound Mixing for a Comedy or Drama Series (One-Hour)
"The End"
Outstanding Art Direction for a Single-Camera Series
Zack Grobler for "Ab Aeterno"
Outstanding Music Composition for a Series
Michael Giacchino for "The End"


---

Outstanding Special Class Program
Mysteries of the Universe
Christopher J. Powers, Ted Bramble, Agnes Chu, Gregg Nations

Alma Awards
2006
2/2
Outstanding Supporting Actor in a TV Series


Jorge Garcia
Outstanding Supporting Actress in a Television Series
Michelle Rodriguez

Alma Awards
2007
0/1
Outstanding Supporting Actor in a TV Series

America On Line Television: Primetime Poll
2007
1/1
Best Season-Ending Cliffhanger


"Through the Looking Glass, Part 1"
Also won the "Editor's Choice" for the same award. [2]




American Cinema Editors, USA (aka Eddie Awards)
2007
0/1
Best Edited One-Hour Series for Commercial Television


Sue Blainey, Sarah Boyd, and Stephen Semel ("Live Together, Die Alone, Part 1")

American Society of Cinematographers, USA (aka ASC Awards)
2005
0/1
Outstanding Achievement in Cinematography in Movies of the Week/Mini-Series'/Pilot for Broadcast Television

Art Directors Guild
2005
0/1
Excellence in Production Design Award Television- Single Camera Television Series


Mark Worthington (production designer), Christina Wilson (art director), Ray Yamagata (assistant art director), ("Pilot, Part 1")  ("Pilot, Part 2")




Art Directors Guild
2006
0/1
Excellence in Production Design Award Television - Single Camera Television Series


James H. Spencer(production designer), William F. Matthews (art director) ("Orientation")




Art Directors Guild
2007
0/1
Excellence in Production Design Award Television - Single Camera Television Series


Zack Grobler (production designer) ("Through the Looking Glass, Part 2")




ASCAP Film and Television Music Awards
2005
1/1
Top TV Series





ASCAP Film and Television Music Awards
2006
1/1
Top TV Series

British Academy of Film and Television Arts (aka BAFTA Awards)
2005
1/1
Best American Import




British Academy of Film and Television Arts (aka BAFTA Awards)
2007
0/1
International
BMI Film & TV Awards
2005
1/1
BMI TV Music Award

Casting Society of America, USA (aka Artios Awards)
2005
1/2
Best Dramatic Pilot Casting

Best Dramatic Episodic Casting
April Webster, and Mandy Sherman




Casting Society of America, USA (aka Artios Awards)
2006
0/1
Best Dramatic Episodic Casting
April Webster, Mandy Sherman, and Veronica Collins
Cinema Audio Society, USA (aka CAS Awards)
2005
0/1
Outstanding Achievement in Sound Mixing for Television Series


David Yaffe (production mixer), Scott Weber (re-recording mixer), and Frank Morrone (re-recording mixer) ("Pilot, Part 1")




Cinema Audio Society, USA (aka CAS Awards)
2007
0/1
Outstanding Achievement in Sound Mixing for TV Series


Frank Morrone (re-recording mixer), Scott Weber (re-recording mixer), and Robert J. Anderson Jr. (production mixer) ("I Do")




Cinema Audio Society, USA (aka CAS Awards)
2008
0/1
Outstanding Achievement in Sound Mixing for TV Series


Frank Morrone (re-recording mixer), Scott Weber (re-recording mixer), and Robert J. Anderson Jr. (production mixer) ("Meet Kevin Johnson")

Directors Guild of America, USA (aka DGA Awards)
2004
0/1
Outstanding Directorial Achievement in Dramatic Series - Night

Directors Guild of America, USA (aka DGA Awards)
2007
0/2
Outstanding Directorial Achievement in Dramatic Series - Night


Jack Bender ("Through the Looking Glass, Part 1")
Eric Laneuville ("The Brig")

Directors Guild of America, USA (aka DGA Awards)
2008
0/1
Outstanding Directorial Achievement in Dramatic Series - Night

Directors Guild of America, USA (aka DGA Awards)
2009
awaiting (Jan 30, 2010)
Outstanding Directorial Achievement in Dramatic Series - Night

Entertainment Weekly Awards (aka EW Awards)
2005
1/1
Entertainer Of The Year.
Hollywood Foreign Press Association (aka The Golden Globes)
2004
0/1
Best Television Series - Drama




Hollywood Foreign Press Association (aka The Golden Globes)
2005
1/3
Best Television Series - Drama
Best Performance by an Actor in a Supporting Role in a Series, Mini-Series or Motion Picture Made for Television


Naveen Andrews
Best Performance by an Actor in a Television Series - Drama
Matthew Fox




Hollywood Foreign Press Association (aka The Golden Globes)
2006
0/2
Best Performance by an Actress in a Television Series - Drama


Evangeline Lilly
Best Television Series - Drama




Hollywood Foreign Press Association (aka The Golden Globes)
2009
0/1
Best Performance by an Actor in a Supporting Role in a Series, Mini-Series or Motion Picture Made for Television

Hugo Awards
2005
0/1
Best Dramatic Presentation - Short Form ("

Pilot, Part 1

")  ("

Pilot, Part 2

")
Hugo Awards
2009
0/1
Best Dramatic Presentation - Short Form ("

The Constant

")
International Horror Guild Awards (aka IHG Awards)
2005
1/1
Best Television
International Press Academy Satellite (aka Golden Satellite Awards)
2005
1/5
Best Actor in a Series: Drama- Matthew Fox(Golden Satellite)
Outstanding DVD Release of a Television Show


Season 1(Satellite)
Outstanding Television Series: Drama (Satellite)
Best Actress in a Series: Drama
Evangeline Lilly(Golden Satellite)
Best Television Series: Drama(Golden Satellite)




International Press Academy Satellite (aka Golden Satellite Awards)
2006
0/1
Best Actor in a Supporting Role in a Series, Mini-Series or Motion Picture Made for Television


Michael Emerson(Satellite)

Motion Picture Sound Editors, USA (aka Golden Reel Awards)
2005
2/2
Best Sound Editing in TV Short Form - Dialogue & ADR


Thomas DeGorter (supervising sound editor), Trevor Jolly (supervising sound editor), Christopher B. Reeves (supervising dialogue editor), Gabrielle Gilbert Reeves (dialogue editor), Troy Allen (dialogue editor/adr editor), ("Pilot, Part 1")
Best Sound Editing in Television Short Form - Sound Effects & Foley
Thomas DeGorter (supervising sound editor), Trevor Jolly (supervising sound editor), Paul Menichini (sound effects editor), Roland N. Thai (sound effects editor), Marc Glassman (sound effects editor) ("Pilot, Part 1")




Motion Picture Sound Editors, USA (aka Golden Reel Awards)
2006
0/1
Best Sound Editing in Television Short Form - Dialogue & ADR


Trevor Jolly (supervising sound editor), Thomas DeGorter (supervising sound editor), Maciek Malish (supervising dialogue editor), Lloyd Jay Keiser (supervising ADR editor) ("The Other 48 Days")




Motion Picture Sound Editors, USA (aka Golden Reel Awards)
2007
1/2
Best Sound Editing in Sound Effects and Foley for Television: Short Form


Thomas DeGorter (supervising sound editor), Paula Fairfield (sound designer/sound effects editor), Carla Murray (sound designer/sound effects editor), Cynthia Merrill (foley artist), Doug Reed(foley artist) ("A Tale of Two Cities")

Best Sound Editing in Television: Short Form- Dialogue & ADR


Thomas DeGorter (supervising sound editor), Lloyd Jay Keiser (supervising ADR editor), Maciek Malish (dialogue/adr editor) ("Further Instructions")




Mundoplus.tv
Il Premios
2007
3/3
Mejor serie dramática (Best drama series)


Mejor actriz (Best actress)
Evangeline Lilly
Mejor actor secundario (Best supporting actor)
Josh Holloway

NAACP Image Awards
2006
0/1
Outstanding Drama Series




NAACP Image Awards
2007
1/1
Outstanding Directing in a Dramatic Series

Peabody Awards
2009
1/1
Outstanding Achievement in Electronic Media


(Season 4)

Prism Awards
2006
1/2
TV Drama Series Multi-Episode Storyline


("Pilot, Part 1")  ("House of the Rising Sun")  ("The Moth")

Performance in a Drama Series Storyline





Prism Awards
2008
0/2
Drama Series Episode


"Through the Looking Glass, Part 1"
Performance in a Drama Series Episode
Matthew Fox

Producers Guild of America (aka PGA Awards)
2006
1/1
Television Producer of the Year Award in Episodic Drama


J.J. Abrams, Damon Lindelof, Bryan Burk, Jack Bender, Jean Higgins, and Carlton Cuse




Producers Guild of America (aka PGA Awards)
2007
0/1
TV Producer of the Year Award in Episodic Drama


J.J. Abrams, Damon Lindelof, Carlton Cuse, Bryan Burk, Jack Bender, Jean Higgins, Edward Kitsis, Adam Horowitz, and Liz Sarnoff




Producers Guild of America (aka PGA Awards)
2008
0/1
TV Producer of the Year Award in Episodic Drama


J.J. Abrams, Damon Lindelof, Carlton Cuse, Bryan Burk, Jack Bender, Jean Higgins, Edward Kitsis, Adam Horowitz, and Liz Sarnoff




Producers Guild of America (aka PGA Awards)
2009
0/1
TV Producer of the Year Award in Episodic Drama


Jack Bender, Carlton Cuse, Drew Goddard, Jean Higgins, Edward Kitsis, Adam Horowitz, Damon Lindelof, Liz Sarnoff, Stephen Williams, and Ra'uf Glasgow




Producers Guild of America (aka PGA Awards)
2010
0/1
TV Producer of the Year Award in Episodic Drama
Damon Lindelof, Carlton Cuse, Edward Kitsis, Adam Horowitz, Jack Bender, Jean Higgins, Elizabeth Sarnoff, Paul Zbyszewski, Stephen Williams, and Ra'uf Glasgow
Screen Actors Guild (aka SAG Awards)

2006
1/1
Outstanding Performance by an Ensemble in a Drama Series


Adewale Akinnuoye-Agbaje, Naveen Andrews, Emilie de Ravin, Matthew Fox, Jorge Garcia, Maggie Grace, Josh Holloway, Malcolm David Kelley, Daniel Dae Kim, Yunjin Kim, Evangeline Lilly, Dominic Monaghan, Terry O'Quinn, Harold Perrineau, Michelle Rodriguez, Ian Somerhalder, and Cynthia Watros

Screen Actors Guild (aka SAG Awards)

2008
0/1
Outstanding Performance by a Stunt Ensemble in a Television Series
Spike T.V. Scream Awards

2006
0/4
The Ultimate Scream


Best TV Show
Scream Queen
Evangeline Lilly
Breakout Performance
Adewale Akinnuoye-Agbaje as Mr. Eko

Spike T.V. Scream Awards

2007
0/1
Best TV Show
Spike T.V. Scream Awards

2008
0/3
Best TV Show


Ultimate Scream
Best Actor in a Fantasy Movie or TV Show
Terry O'Quinn

Spike T.V. Scream Awards

2009
0/3
Best TV Show


Best Science Fiction Actor
Josh Holloway
Best Ensemble

Teen Choice Awards
2005
0/11
Choice TV Show: Drama


Choice TV Actor: Drama
Matthew Fox
Choice TV Actress: Drama
Evangeline Lilly
Choice TV: Breakout Show
Choice TV Breakout Performance: Female
Evangeline Lilly
Choice TV Breakout Performance: Female
Maggie Grace
Choice TV Breakout Performance:Male
Jorge Garcia
Choice TV Breakout Performance: Male
Josh Holloway
Choice TV Breakout Performance: Male
Ian Somerhalder
Choice TV: Chemistry
Evangeline Lilly and Matthew Fox,
Choice TV: Sidekick
Jorge Garcia




Teen Choice Awards
2006
0/5
Choice TV Show: Drama/Action Adventure


Choice TV Actor: Drama/Action Adventure
Matthew Fox
Choice TV Actress: Drama/Action Adventure
Evangeline Lilly
Choice TV: Chemistry
Matthew Fox, Evangeline Lilly, and Josh Holloway
Choice TV: Sidekick
Jorge Garcia




Teen Choice Awards
2007
0/5
Choice TV Show: Drama


Choice TV Actor: Drama
Matthew Fox
Choice TV Actress: Drama
Evangeline Lilly
Choice TV: Villain
Michael Emerson as Ben
Choice TV: Sidekick
Jorge Garcia

Television Critics Association (aka TCA Awards)
2005
2/4
Outstanding Achievement in Drama


Outstanding New Program of the Year

Individual Achievement in Drama


Matthew Fox
Program of the Year




Television Critics Association (aka TCA Awards)
2006
1/2
Outstanding Achievement in Drama
Program of the Year




Television Critics Association (aka TCA Awards)
2007
0/1
Outstanding Achievement in Drama




Television Critics Association (aka TCA Awards)
2008
0/2
Program of the Year





Television Critics Association (aka TCA Awards)
2009
1/2
Outstanding Achievement in Drama
(tie with Breaking Bad).


Program of the Year
TV Guide 10 Sexiest Stars
2007
1/2
Evangeline Lilly (#1 of 10)
Josh Holloway (#4 of 10)
Visual Effects Society (aka VES Awards)
2005
1/1
Outstanding Supporting Visual Effects in a Broadcast Program


Kevin Blank, Mitch Suskin, Benoit Girard, and Jerome Morin ("Pilot, Part 2")




Visual Effects Society (aka VES Awards)
2006
1/1
Outstanding Supporting Visual Effects in a Broadcast Program


Kevin Blank, Mitchell Ferm, Eric Chauvin, and John Teska ("Live Together, Die Alone, Part 1")

VSDA DVD Technical Awards
2006
2/2
Best Commentary- Lost Season 1 (Buena Vista Home Entertainment)


Best Overall Presentation: Television Release- Lost Season 1 (Buena Vista Home Entertainment)




Writers Guild of America, USA (aka WGA Awards)
2006
1/1
Dramatic Series


J.J. Abrams, Kim Clements, Carlton Cuse, Leonard Dick, Paul Dini, Brent Fletcher, David Fury, Drew Goddard, Javier Grillo-Marxuach, Adam Horowitz, Jennifer Johnson, Christina M. Kim, Edward Kitsis, Jeffrey Lieber, Damon Lindelof, Lynne E. Litt, Monica Macer, Steven Maeda, Liz Sarnoff, Janet Tamaro, Christian Taylor, Craig Wright.




Writers Guild of America, USA (aka WGA Awards)
2007
0/2
Dramatic Series


J.J. Abrams, Monica Breen, Carlton Cuse, Leonard Dick, Drew Goddard, Javier Grillo-Marxuach, Adam Horowitz, Dawn Lambertsen Kelly, Christina M. Kim, Edward Kitsis, Damon Lindelof, Steven Maeda, Jeff Pinkner, Matt Ragghianti, Liz Sarnoff, Alison Schapker
Episodic Drama
Liz Sarnoff, Christina M. Kim ("Two for the Road")




Writers Guild of America, USA (aka WGA Awards)
2008
0/1
Episodic Drama


Damon Lindelof, Drew Goddard ("Flashes Before Your Eyes")




Writers Guild of America, USA (aka WGA Awards)
2010
awaiting (Feb 20, 2010)
Drama Series


Carlton Cuse, Adam Horowitz, Melinda Hsu Taylor, Edward Kitsis, Damon Lindelof, Greggory Nations, Kyle Pennington, Elizabeth Sarnoff, Brian K. Vaughan, Paul Zbyszewski

Young Artists Awards
2005
0/1
Best Performance in a TV Series (Comedy or Drama):Leading Young Actor





Young Artists Awards
2006
1/1
Best Performance in a TV Series (Drama)-Supporting Young Actor

See also
Viewer interest information