"Australia" redirects here. For locations and characters from Australia in Lost, see Australia in Lost.
Originally broadcast from November 30, 2005 by:
When: New episodes were broadcast on channel 7 locally in each time zone Thursdays at 9:30 pm or 10:30 pm. From 2010, new episodes are being shown on 7's secondary digital channel 7TWO at 8:30 pm, followed by a repeat screening of the previous week's episode on channel 7 at 11:30 pm.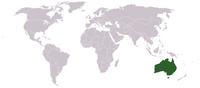 The exception was "The End", which was shown on Seven's primary channel. Australia has 5 time zones in summer (GMT+11, GMT+10, GMT+10:30, GMT+9:30, GMT+8) and 3 in winter (GMT+10, GMT+9:30, GMT+8). Repeats were usually shown late at night around October to December, but 7 seems to have abandoned this format. Season 6 is also available to watch on Yahoo!7 to Australian users.
All episodes of Seasons' 1 & 2 were broadcast at 8.30 pm on Network Seven.
Subtitled: Available on Digital and HD TV
Original airing information
The series finale, "The End", aired May 26th, 2010.

Australians in Lost
See also