Alan Mueting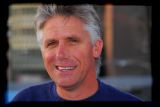 Alan Mueting
Alan Mueting appeared in Season 2 as Jerry, as well as one of the background cast of the midsection survivors of Flight 815. In Season 1, he appeared as an airline pilot in several scenes at the Sydney Airport. In Numbers, he played a reporter with a microphone when Hurley won the lottery.
During the filming of Numbers, Mueting was dressed to play one of four uniformed LAPD police officers in two LAPD cop cars when Hurley was arrested. During an unfilmed rehearsal for that scene, the stunt drivers crashed the two LAPD cars into each other making one of the cop cars non-functional. The wrecked cop car and two cops (including Mueting) were cut from the scene.
Background
Mueting is a local comedian in the Honolulu area, and has appeared in other television shows filmed in Hawaii, including North Shore and Rocky Point. Mueting has a BA in geology from Califorania State Polytechnic University Pomona.
He performs comedy Thursday nights at Sharkey's Comedy Club in Aiea, HI. He played the lead in the trailer for Shorts on the Rocks Film Festival, which also stars James Hadde of the Others background cast.
External links
Community content is available under
CC BY-NC-ND
unless otherwise noted.