Adam and Eve is the nickname that Locke gave two skeletons discovered in 2004 by Jack and Kate in the caves. ("House of the Rising Sun") On these bodies, Jack found a small bag containing two stones, one black and one white.  Later, in 2007, when Hurley and Jack revisited the caves where the skeletons lay, Hurley theorized that the skeletons might belong to two of the survivors of Oceanic Flight 815 as a result of time travel. ("Lighthouse") 

The skeletons are the remains of the Man in Black and his adoptive mother, both of whom had been laid to rest in the caves by Jacob. ("Across the Sea")
Facts
Jack first discovered the caves in "White Rabbit", but did not find Adam and Eve at that time.
The skeletons were not discovered until the episode "House of the Rising Sun", when Jack and Kate stumbled upon them after escaping from a swarm of bees.
They were last seen in the episode "Across the Sea", when Jacob laid them to rest in flashbacks, 111 episodes after their first appearance in "House of the Rising Sun".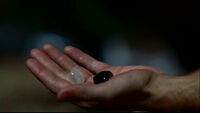 Interview testimony