Adam and Eve are the nicknames given by Locke to the skeletons of the Man in Black and his adoptive mother when he, Kate and Jack discovered them in 2004. ("House of the Rising Sun") The bodies were laid to rest by Jacob in the Caves millennia before the crash of Flight 815 after the Mother was stabbed and the Man in Black was transformed into the smoke monster. ("Across the Sea")
Facts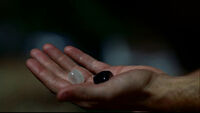 The stones found on the bodies.
Characters' theories
Jack guessed that the bodies must have been dead 40-50 years based on the deterioration of their clothing. ("

House of the Rising Sun

") However, upon discovering the remains of a Nigerian smuggler, Locke told Boone that normal clothing would decompose within 2 years and that the high quality polyester on the smuggler's body would take 2-10 years to get to its current condition. ("

Deus Ex Machina

")
In 2007, when Hurley and Jack revisited the caves, Hurley theorized that the skeletons might belong to two of the survivors of Oceanic Flight 815 as a result of time travel. ("

Lighthouse

")
Interview testimony
Community content is available under
CC BY-NC-ND
unless otherwise noted.