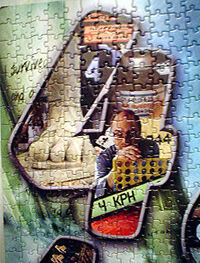 4 is the first of the Numbers. Below is a list of appearances on the show, by episode chronology.
4 is a very common number, so many of the occurrences could be coincidental. See article: apophenia.
Occurrences in the show
Season 1
Jack told the pilot that at least 48 people survived the plane crash.
Jack had 4 cuts on his face, two on one side and two on the other.
There were 4 Chinese characters in Jack's tattoos.
The doubling cube showed number 4 while Locke explained backgammon to Walt. (This changed to a 16 in the same scene.) ("

Pilot, Part 2

")
Locke blew the whistle 4 times before Vincent came running out of the jungle. ("

Tabula Rasa

")
Sawyer told Kate, "It's about time. I made this birthday wish 4 years ago." ("

White Rabbit

")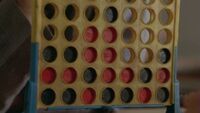 Season 2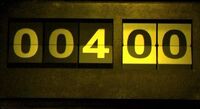 Season 3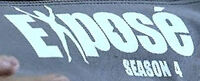 Season 4
The Lost Experience
Season 5
Miles sensed the graves of 4 dead U.S. soldiers. ("

Jughead

")
Juliet fired 4 shots at the people in the outrigger. ("

The Little Prince

")
On the beach, Rousseau fired the gun 4 times - once at Robert, three times at Jin. ("

This Place Is Death

")
The donkey wheel blinked 4 times before John Locke turned it the final time. ("

This Place Is Death

")
Desmond told Ms. Hawking that going to the Island had cost him 4 years of his life. ("

316

")
Eloise's brooch had 4 points ("

316

").
Jack's Grandfather, Ray, made 4 failed attempts to escape from his retirement home. ("

316

")
Jack saw a photo of the Island dated September 23, 1954. ("

316

")
The death date on the headstone John Locke visited was April (month number 4) 8, 2006. ("

The Life and Death of Jeremy Bentham

")
Widmore asked John Locke how long it had been since he walked into the Others' camp. Locke replied, 4 days. ("

The Life and Death of Jeremy Bentham

")
The final time flash landed the survivors in 1974 ("

LaFleur

")
LaFleur beeped the horn 4 times for Miles to come outside. ("

LaFleur

")
The water tank at the flame bore the number 4 ("

Namaste

")
Young Miles found the dead body of Mr. Vonner in apartment 4. ("

Some Like It Hoth

")
Sawyer directed Miles to erase security monitor 4 where Sawyer and Kate appeared. ("

Some Like It Hoth

")
Horace told Miles to deliver a package to Radzinsky at grid 334. ("

Some Like It Hoth

")
Dr. Chang asked Hurley 4 questions before Hurley confessed that they were from the future.
Season 6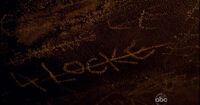 Outside the show and real life occurrences
The central tenets of Buddhism are called the Four Noble Truths.
The object in the Connect Four game is to get four of your checkers in a row, either in a vertical, horizontal, or diagonal way.
4 is a bad luck number in Chinese, Korean, and Japanese culture. It is associated as the death number.
4 gospels.
4 seasons.
4 elements (earth, water, air and fire)
At the Passover seder every year, Jewish people ask 4 questions, drink 4 cups of wine, and discuss the story of the 4 sons.
Each U.S. Presidential term lasts 4 years.
4 cardinal directions (north, south, east, west)
4 suits of playing cards
4 food groups
Violins, Violas, Cellos, Double Basses, Basses, Cuatros, and Ukuleles all have 4 strings