"316" redirects here. For other uses of "316", see 316 (disambiguation).
"316" is the sixth episode of Season 5 of Lost and the 89th overall. It was originally broadcast on February 18, 2009. The way back to the Island is revealed to members of the Oceanic 6, but there's trouble ahead when not all of them wish to return.
Synopsis
Off-Island (flashback)
2008
In Los Angeles, Eloise Hawking takes Jack, Sun, Ben, and Desmond into the basement of the church. There she opens a blast door, revealing a room containing a map, a Foucault pendulum, and various computers. She announces that this is a DHARMA Initiative station called The Lamp Post.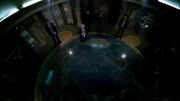 Eloise explains that The Lamp Post was created years ago by the DHARMA Initiative as a way to find the Island. They knew that it existed but not where it was. Then, one day, one of the men realized that the Island was moving and worked out a series of formulas in order to predict where the Island would appear in the future. Using those calculations she has predicted where the Island will be in thirty six hours. As she was explaining this, Jack observes the room noticing the calculations on the chalkboard and a large photograph taken of the Island by the U.S. Army dated 09/23/1954. After hearing Eloise's talk, Desmond realizes that Jack intends to return to the Island and delivers the message that Eloise's son, Daniel Faraday, send him there to tell her that Daniel and everyone on the Island need her help. Desmond says they are being used and he is finished with the Island. Eloise tells him the Island wasn't finished with him before he storms off. Eloise hands Jack a binder that contains lists of flights from different airlines and their coordinates ("openings"). Eloise then informs Jack that Ajira Airways Flight 316 to Guam will be heading over the coordinates where the Island will be and that all of his friends must be on it.
Eloise asks to see Jack alone and takes him to another room of the church which appears to be her office. She gives Jack an envelope containing Locke's suicide note. She explains that Jack must recreate the crash of 815 as closely as possible. Locke will act as a proxy for Christian Shepard, and Jack needs to give Locke something belonging to his father. Jack is skeptical, but Eloise tells him "That's why it's called a leap of faith."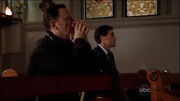 In the main hall of the church, Jack approaches Ben, who is sitting in a forward pew with his hands together up to his nose as though praying, with his eyes open. Jack asks where Sun is; Ben says she left. Jack asks about Locke and his coffin, which Ben tells him he will pick up on his way to the airport. As Ben walks to the votive candles and lights one, both men ask each other about Eloise, but neither provide answers. Ben looks at the painting positioned above the candles: The Incredulity of Saint Thomas by Caravaggio. Ben tells Jack about Thomas the Apostle, noting Thomas' bravery was not his claim to fame, but his doubt was. Jack asks if Thomas was ever convinced and Ben says, "We're all convinced sooner or later, Jack." Ben walks toward the doors, and Jack asks where he's going to which Ben replies, "Oh, I made a promise to an old friend of mine--just a loose end that needs tying up". Jack turns and looks again at the Caravaggio.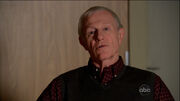 Later, while sitting in a bar with a seemingly untouched drink in front of him, Jack receives a phone call from an assisted living facility. There, an official tells Jack that the resident in question attempted to run away and that if it happens again they will have to transfer him to another facility. In a common room, Jack greets an elderly man named Ray. Ray, who is revealed to be Jack's grandfather, had attempted to run away from his retirement home, going so far as to pack a suitcase. As Jack helps his grandfather unpack he notices a pair of black dress shoes. Ray explains that the shoes were among Christian's belongings which Margo had sent to Ray following Christian's death. Jack asks to take the shoes, and Ray readily gives them to him.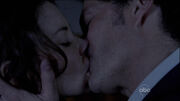 Jack returns home and pours himself a drink (but does not drink it), then hears a suspicious noise. Going into his bedroom he finds Kate lying on his bed in tears. She asks if he is still planning on returning to the Island and then offers to return with him. When Jack asks why she changed her mind and where Aaron is she tells him to never ask her that question again. Kate then kisses Jack passionately.
The next morning, Jack prepares coffee and orange juice for Kate. She notices Christian's shoes, and Jack explains why he had put white tennis shoes on his father's body back in Sydney. Kate leaves, telling Jack that she will meet him at the airport. After she leaves Jack receives a phone call from a drenched and bloodied Ben, who is calling from a pay phone at what appears to be Long Beach Marina. He claims that he has been "sidetracked" and that Jack should retrieve Locke's body from Simon's Butcher Shop. Jack travels to the butcher shop where he is let in by Jill. In the freezer, Jack opens Locke's coffin and replaces Locke's shoes with his father's. He then places Locke's unopened suicide note in Locke's jacket, claiming that he's "heard everything you have to say" and closes the casket.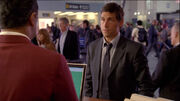 At the airport, Jack makes arrangements with the gate attendant for transporting Locke's body. While doing so, he sees Kate arrive, apparently trying to look discrete in sunglasses and with her head down. As he heads towards the gate a man offers his condolences. He then runs into Sun, who says that if there is the slightest chance of Jin being alive she needs to return to the Island. As they head to the gate they see Sayid, apparently handcuffed, and being accompanied by a woman, apparently a federal marshall. At the gate, Hurley, who is carrying a guitar case, informs the Ajira employee that he has purchased all the remaining available seats on the flight, but not why. It is implied that it is to save innocent people from any forthcoming crash.
As the flight is about to close their doors, Ben comes running up at the last minute with his boarding pass. Hurley becomes agitated at Ben's presence because he was told Ben "is not supposed to come" but Jack assures him that Ben is necessary. As Ben takes his seat, one of the flight attendants tells Jack that security had found something of his in the cargo hold and hands him Locke's suicide note.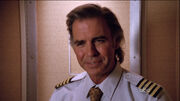 Once the plane reached 30,000 feet, the captain turns off the "fasten seat belts" sign. Jack moves up a few rows and sits with Kate. He remarks how crazy all this is and how it's weird that they are all together again. Kate says "We're on the same plane, it doesn't mean we are together." The captain makes an announcement welcoming them to Ajira Airlines and informing them that he is Captain Frank J. Lapidus. Jack asks the flight attendant to tell Frank about his presence. A clean-shaven Frank comes out and happily greets Jack saying he "picked up this gig about 8 months ago.", but then he sees Hurley, Sayid, Sun, Ben and Kate. Upon seeing them he asks "We're not going to Guam, are we?"
It is now night, and on the plane Ben is reading Ulysses. Jack asks him how he can read, and Ben sarcastically answers "my mother taught me. " Ben then "gives him some privacy" so he can read the letter in peace. Jack then opens and reads Locke's suicide note, which simply states: "Jack, I wish you had believed me. JL." Ben is then seen walking swiftly to the front of the plane and shortly afterwards, the plane encounters turbulence. As everyone buckles up, the turbulence increases and eventually the plane is engulfed in a flash of white light reminiscent of the flashes that accompany the abrupt changes in time on the Island.
On the Island
Unknown time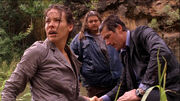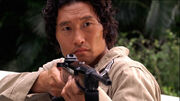 The first and last scene starts like the opening scene of the pilot. Jack's eye opens as he awakens in a bamboo grove, dressed in a suit. He looks around in amazement then notices he's holding a torn piece of paper on which the words "I wish" are legible. We are to assume this is from John Locke's suicide letter to Jack. Jack hears Hurley crying for help and runs through the jungle, along a stream, and to the top of a waterfall, where he sees Hurley flailing in the pool below, struggling to hold on to a guitar case. Jack dives into the water and helps Hurley out of the deep part of the water. They notice Kate lying unconscious on the side of the pool, and hurry over where Jack awakens her and informs her that they've successfully returned to the Island. None of them remember actually crashing and none have seen any other survivors, or wreckage of the plane. Jack suggests that they split up and search for survivors but before they can do anything they hear music. Looking at the jungle by the pool they see a new looking DHARMA van pull up. A man in a DHARMA jumper gets out and points a carbine at the three survivors. They then recognize him and the man lowers his carbine; it is an astonished Jin.

Trivia
General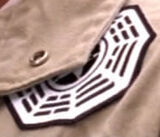 The episode's title refers to the flight number of the plane that returns the Oceanic Six to the Island.
Behind the plane that the Oceanic Six are taking off from you can see an Oceanic Airlines jet.
Behind the passengers being screened for departure is a poster for Oceanic Airlines.
The DHARMA logo on Jin's jumpsuit is mostly obscured by his collar, but appears to be a five-pointed sheriff's star.
A photo of the Island taken for the U.S. Army can be seen on The Lamp Post's board. It is labeled "9/23/54" (9+2+3+5+4=23).

This is coincidentally one day shy of being exactly fifty years before Oceanic Flight 815 crashed on the Island.

The book that Hurley is reading at the airport is book three of the collected comic book series Y: The Last Man, written by Brian K. Vaughn. Vaughn is one of the writers and producers of Lost.
Production notes
Bloopers and continuity errors
When Jack goes to retrieve Locke's coffin, it's obvious that the meat locker it's in is not cold, otherwise we'd see Jack's breath as he is putting his father's shoes on Locke's body, and while he is talking to Locke's corpse.
While Jack is putting his father's shoes onto Locke's corpse, he is seen putting the shoes just to the left of Locke's legs at the foot of the coffin. In the next shot, Locke's shoes are seen on the table behind Jack next to his bag.

The shoes on the left were the shoes Jack took off of Locke's feet.

The Ajira Airlines aircraft is a 737-200, which is incapable of covering the distance from Los Angeles to Guam without refueling.
Recurring themes
Storyline analysis
Cultural references
Literary techniques
Jack dives into and rises out of the pond. Writers have used this age-old literary device to symbolize that someone has accepted another person's plea for forgiveness of their past transgressions and has granted them a chance at a new and better life. (Symbolism)
Sayid is seemingly under arrest on the flight, being watched by a officer similar to Kate and Edward Mars. (Juxtaposition)
Hugo is carrying a guitar case, seemingly in place of Charlie Pace. (Symbolism) (Juxtaposition)
At the bar Jack's face is split in half by blue and yellow light symbolizing his internal struggle to believe what Eloise has told him. He then gets a call from his grandfather's nursing home which eventually convinces him to do as Eloise instructed. (Symbolism)
Jack is still tempted by alcohol, in a parallel of Christian; however, he never drinks, symbolizing that he is making progress in his recovery, and is making different choices from his father. (Symbolism) (Juxtaposition)
At the airport, Hurley tells Jack, "Let's do this". (Regularly spoken phrases)
A Dharma worker pulls up in a new VW bus and pulls a gun on Jack, Kate and Hurley. It is shown that this worker is in fact Jin. (Plot twist)
Episode references
There are several parallels between the original passengers of Flight 815 and the partial Oceanic Six aboard Flight 316:
Ben tells Jack he is going to fulfil a promise to an "old friend". ("The Shape of Things to Come")
Jack awakens in the jungle and hears cries for help, leading him to run off to save the other people from the plane, just as he did when 815 crashed. He is wearing clothing similar to what he wore the day Flight 815 crashed on the Island, including a black tie with a white pattern. ("Pilot, Part 1")
Jack explains why Christian wears white tennis shoes in his apparitions. ("Pilot, Part 1")  ("Walkabout")  ("So It Begins")
Hurley and Kate land by the waterfall they previously visited. ("Whatever the Case May Be")
The coordinate finder in the Lamp Post resembles the countdown timer in the Swan. ("Live Together, Die Alone, Part 1")
Ms. Hawking says, "That's why it's called a leap of faith, Jack." These are the same words Helen spoke to Locke outside his father's home, and Locke paraphrases to Jack when urging him to push the button on the Swan's computer for the first time. ("Orientation")
Jack has a drink in the bar at LAX, where his father met Ana Lucia three years prior. ("Two for the Road")
Desmond references having previously met Ms. Hawking. ("Flashes Before Your Eyes")
Desmond defies Ms. Hawking's advice. ("Flashes Before Your Eyes")
When questioned about his relationship to Jeremy Bentham, Jack says that he is a friend. When he was at the funeral parlor, Jack said that he was neither friend nor family. ("Through the Looking Glass, Part 1")
Locke's letter to Jack is a reference to their argument by the Orchid right before Jack flew to the freighter specifically and to their conflict of faith versus science in general. ("There's No Place Like Home, Part 2")
Jack emerges from the water after arriving on the Island in the same way that Ana Lucia does in The Other 48 Days and Jack does in There's No Place Like Home, Parts 2 & 3.
Desmond warns Jack not to trust what Ben and Ms. Hawking tell him to do, recalling Sayid's advice to Hurley. ("Because You Left")
The photograph of the Island is dated 23 September 1954, the same year that the United States military brought "Jughead" to the Island. It was also classified TOP SECRET and marked for limited distribution to "U.S. Army eyes only". ("Jughead")

September 23, 1954 is exactly fifty years prior to "Day 2" on the Island after the original crash of Flight 815.

In regards to Christian's shoes, Kate asks Jack why he would "hold on to something that [made him] feel sad?" Kate held on to her toy airplane for years, even though it reminded her of Tom Brennan's death. ("Whatever the Case May Be")
Ms. Hawking refers to the Lamp Post and the Island as "unique pocket[s] of electromagnetic energy. That energy connects to similar pockets all over the world." Isaac of Uluru also refers to these pockets, citing Uluru as one, when Rose and Bernard went to see him. ("S.O.S.")
There is a Virgin Mary statue on Ms. Hawking's desk that was identical to those on the drug runner's plane. ("The 23rd Psalm")
Unanswered questions
Unanswered questions
Do not answer the questions here.
Keep the questions open-ended and neutral: do not suggest an answer.
For fan theories about these unanswered questions, see: 316/Theories
How do Jack, Hurley and Kate get to the Island from the plane?

What year are they in when they get to the island?

Where are Ben, Sun, Sayid, Frank, and the rest of Flight 316?
Who tells Hurley which flight to take?

Why does he have a guitar case and is there a guitar inside?

What year is it on the island?
Why is Sayid handcuffed and being escorted on the plane?
Who is the man in first class of Flight 316 with the Oceanic Six?
Why weren't Walt or Desmond on the plane?
Why is Jin wearing a new DHARMA coverall, and driving a new VW van?
How does Eloise Hawking know that John Locke hanged himself?
How does Ms. Hawking end up with Locke's suicide note?
How does Eloise Hawking end up running the Lamp Post?
Who is the man that Hawking says conceived the equations that predict the Island's movements?

What is his relation to Eloise?

What happens to Kate during the period when she left the rest of the group and reappeared in Jack's bedroom?

Where is Aaron and why does she demand that Jack not ask about his whereabouts?

Why is Ben injured and drenched?
What does the Island still want with Desmond?

Why did Eloise say "the island is not done with" Desmond?

Is there a significance in the numbers 316?
Is there a relation between the plane the Oceanic Six flew on and the Ajira bottle?
When the Ajira passengers end up on the island, what year are they in?
Was Ajira 316 crash caused by a similar incident on the island?
Why did Ben need to "move the Island" if, as Eloise Hawking implies, it is always moving?
External links